Authors Arrested in War Protest at White House
Sat Mar 8, 9:00 PM ET
WASHINGTON (Reuters) - Acclaimed authors Alice Walker and Maxine Hong Kingston were among a group of 23 women arrested in front of the White House on Saturday as they protested against what they called a misguided march toward war, protest organizers said.
"They were in front of the White House, registering their discontent with the war and the war plans and were arrested by Park Police simply for standing in front of the White House and saying 'no' to war," said Gopal Dayaneni, a spokesman for the anti-war group CodePink which organized the rally.
A spokesman for the U.S. Park Police confirmed that about 25 people had been arrested on the sidewalk in front of the White House for crossing police lines and demonstrating in a closed area.
"The president may pretend that he doesn't want to hear us, he doesn't see us, but believe me eventually he will see us and he will hear us," Walker, who won a Pulitzer Prize in 1983 for her novel "The Color Purple," told CNN before her arrest.
Kingston, perhaps best known for her 1976 novel The Woman Warrior, has won numerous awards for her work and was a recipient of a prestigious Guggenheim Fellowship in 1981.
Several thousand demonstrators, mostly women wearing pink, took part in the rally timed to coincide with International Women's Day. Celebrities in the crowd included singer Michelle Shocked and actress Janeane Garofalo.
"The White House refuses to listen to the people of the world who are trying to stop this immoral and unnecessary war from happening, and won't even let peaceful protesters get near them to express our dissent," CodePink co-founder Jodie Evans said.
CodePink, whose name is a play on the Bush administration's system of terror threat warning levels, said Medea Benjamin, who founded the group with Evans, and Amy Goodman, the host of the Pacifica Radio program "Democracy Now," were also arrested.
President Bush (news - web sites) has sent more than 250,000 troops to the Gulf to be ready to invade Iraq (news - web sites) to oust President Saddam Hussein (news - web sites) and destroy the chemical and biological weapons which Bush says the Iraqis have. Baghdad denies having such arms.
The U.S. preparations for war have generated widespread international opposition but Bush said his main concern is the security of the United States.
---
How can we manifest peace on earth if we do not include everyone (all races, all nations, all religions, both sexes) in our vision of Peace?
---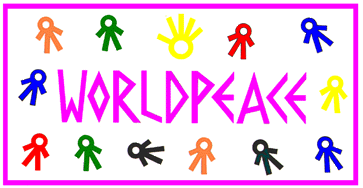 The WorldPeace Banner
To the John WorldPeace Galleries Page

To the WorldPeace Peace Page