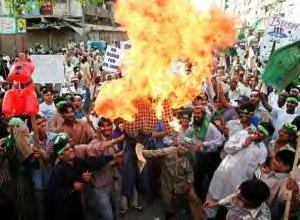 More than 10,000 Lebanese and Palestinian demonstrators poured into Syria on Sunday to express support for Syrian President Bashar Assad's stance against the United States on Iraq and Israel. (Getty Images)...
---
10,000 take anti-war protest from Beirut to Damascus

Convoy of activists joins thousands more in Syrian capital
Assad tells Lebanese delegation leaders: 'Having the US as an enemy is dangerous, but its friendship is deadly'
Compiled by Daily Star staff
DAMASCUS: More than 10,000 Lebanese and Palestinian demonstrators poured into Syria on Sunday to express support for Syrian President Bashar Assad's stance against the United States on Iraq and Israel.
The demonstrators drove from Lebanon in hundreds of cars, vans and buses to say they opposed a US military strike on Iraq and to promote Arab solidarity against Washington's regional policies. They were joined by tens of thousands of Syrian demonstrators. The Lebanese delegation was headed by a number of pro-Syrian politicians and MPs.

Assad greeted the rally from the Presidential Palace balcony and then met with members of the delegation.
He was quoted as telling the delegation that the United States does not believe in the presence of friends in the area and does not keep its promises.

"Having the US as an enemy is dangerous but its friendship is deadly," he said, citing the relationship between the US and the late shah of Iran to illustrate his point.

Assad also told the delegation at the Presidential Palace in Damascus that Arab countries should "not trust promises by the United States administration regarding the achievement of a just and comprehensive peace" in the region.

"We differ with the US administration over principles," he said. "I was being frank when I recently met with an American official who visited Damascus, and I told him: 'We want a just and comprehensive peace. What do you have in return?' But there is nothing but repeated promises, and this is what we no longer take seriously," he added.

The Syrian president also praised the church's anti-war stance and the demonstrations held in various European countries denouncing the threat of war, especially in countries whose governments support the war effort.

Syria is one of 15 Security Council members who were likely to be called upon this week to vote on a US-British resolution giving Iraq a March 17 deadline to give up its alleged weapons of mass destruction or face war.

Syria, which says weapons inspections that began in November should continue, is expected to vote against the resolution. Lebanon shares the same view.

Suleiman Qaddah, an aide to Assad, told demonstrators gathered outside the Presidential Palace, that Washington was "obsessed with launching an aggression against a brotherly people of Iraq seeking to break its (Iraq's) sovereignty and unity and (to exploit) its resources."

"The United States' determination to launch war against Iraq using the pretext of it having weapons of mass destruction is not convincing anyone in the world … The real danger to the region is Israel, not Iraq."
Security was heavy near the US Embassy where demonstrators angered by US regional policy in 2000 were stopped by riot police after penetrating the compound.

On Sunday, Palestinian protesters passing near the Egyptian Embassy shouted slogans against President Hosni Mubarak for his ties to Washington. Jordan's King Abdullah was also targeted for being a US ally.
Mohammed al-Yatim, a Lebanese machinist, said: "I'm here because of the situation in Iraq, because Syria is standing up against America. I brought my kids along with me to show that we reject all of this." A Palestinian in his 20s holding an Islamic Jihad flag said: "It starts in Iraq and God knows where it will end. We must oppose all this and we must fight."

In other anti-war demonstrations around the world, hundreds of thousands of people rallied in the bustling Pakistani city of Rawalpindi, in the second of two anti-war demonstrations that organizers have optimistically dubbed "million-man marches."

"We are united against the war designs of American President (George W.) Bush. We are united against the policies of President (Pervez) Musharraf, and we are with Iraq," said Sadique al-Farooq, a spokesman of deposed Prime Minister Nawaz Sharif's party.

Carrying banners and white flags saying "God is great" in Arabic, supporters of the anti-US alliance chanted slogans such as "Down with America" and "No war for oil." Loudspeakers called for jihad. "Wake up Pakistanis. It's time for jihad. Your Islamic faith is calling on you," one crowd leader said.

Organizers claimed about 1 million people participated in the march in Rawalpindi, adjacent to Islamabad, amid tight security. Police gave a far lower figure for the turnout, but journalists at the scene said it was one of the largest rallies in recent years and could easily have been half a million people.

Up to 800,000 people gathered in Indonesia's second-largest city of Surabaya on Sunday to pray for peace in the biggest anti-Iraq war event yet in the world's most populous Muslim nation.

Officials with the moderate Nahdlatul Ulama (NU), Indonesia's leading Islamic group and organizer of the prayers, estimated 700,000 to 800,000 people poured into a military parade ground in Surabaya for the event, which broke up peacefully at midday. A military official estimated the crowd at 700,000.

"We are not defending Saddam Hussein but we are simply defending humanity, justice and world order," Fachruddin Masturoh, NU's deputy spiritual head, told the crowd. ­ Agencies
---
How can we manifest peace on earth if we do not include everyone (all races, all nations, all religions, both sexes) in our vision of Peace?
---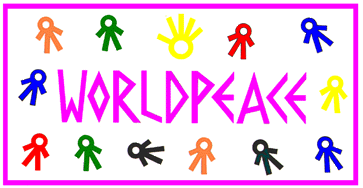 The WorldPeace Banner
To the John WorldPeace Galleries Page

To the WorldPeace Peace Page