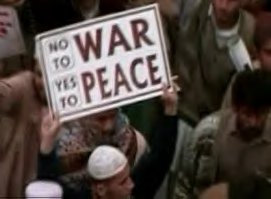 Pentagon plans which have appeared in the Western media are now the subject of anxious discussion among Iraqis – 3,000 Tomahawk missiles in 48 hours for Baghdad alone; Tikrit, Saddam Hussein's birthplace and power base, to be razed; six kilos of ordnance for every Iraqi ... There will be very little by way of return fire. (WN photo)...
---
Allied bombs threaten a new generation of children with trauma, disease and death
By Kim Sengupta in Baghdad
10 March 2003
The tension of the weeks of waiting is reaching fever pitch, and fear is now all-pervasive as Iraqis wait for the ferocious bombardment that the Americans have promised to unleash upon them.
Pentagon plans which have appeared in the Western media are now the subject of anxious discussion among Iraqis – 3,000 Tomahawk missiles in 48 hours for Baghdad alone; Tikrit, Saddam Hussein's birthplace and power base, to be razed; six kilos of ordnance for every Iraqi ... There will be very little by way of return fire.
At the Saddam General Hospital they are stocking up for the war. There are young cancer patients here who, it is claimed, are the victims of a residue of the last war – depleted uranium. Murtaba Riayad is three and a half years old, a smiling boy with bright, curious eyes. He has lost all his hair to chemotherapy. His mother, Karima, says a number of children from Nejaf area in the south-east have developed cancer.
Dr Murthada Hassan, a senior haematologist, says simply: "We cannot save the boy. He looks well now, but there will be a relapse. We really haven't got all the medicine we need. And now we can look forward to hundreds more children coming to this hospital. Even if we forget depleted uranium, think of all the other types of casualties we can expect from war. That is the reality we have to face."
The 1991 Gulf War, the sanctions that followed, and now the fear of a coming war has been particularly traumatic for Iraq's children. In their drawings, the pupils of al-Quds primary school in Baghdadshow flowers, their parents and friends. But there are the other images; planes dropping bombs, homes on fire, dead bodies.
In a country where almost half the population is under 14, aid agencies predict that a new conflict will bring widespread death, displacement and disease, and for those who survive, lasting psychological problems. The situation is already serious. More than a third of Iraqi children are undernourished, and those suffering from serious diseases, including cancer allegedly connected to the use of depleted uranium shells in the Gulf War, has doubled in the past 10 years. One in four babies born is underweight; eight million children depend on state rations.
A recent report by international welfare agencies called Our Common Responsibility: The Impact of a New War on Iraq's Children warned of many thousands of child casualties and concluded that the 13 million children in the country "are at grave risk of starvation, disease, death and psychological trauma".
Amina Nasr, a child behaviour specialist, has studied the psychological effect of Gulf War bombing on the young. "Years later they would still have nightmares. If you see their sleeping patterns you notice sudden, spasmodic movements as if they could hear or see explosions. I have seen this with my own son. Then there other signs – nervousness, lack of concentration, disinterest, and problems with education. These are the usual symptoms."
At al-Quds school the headmistress, Khulla Allani, has experienced the effect of the last war on her charges. "Of course they were affected, they came back different," she said. "You noticed the changes in their behaviour. Some had lost relations, others had seen dead and injured people for the first time. The fathers and mothers of many of them did not have jobs afterwards. It is difficult to believe that all that is going to happen again soon. We shall have to shut the school down, like last time, but I shall try to keep in contact with as many families as possible to see the children are all right."
The school has 464 girls and boys aged between six and 12. Nine-year-old Lubbab Muaed, whose mother is an engineer, wants to be a doctor. She is too young to remember the Gulf War, and has a vague notion of what might happen this time. "America wants to attack Iraq, bad things will happen and I am very afraid."
Yasser Salman, nine, has heard there will be bombing. "I am not scared," he said. "But I do not understand why they want to bomb us.
"My family say it was very bad the last time. I would like to meet boys from America and England, we could be friends, but I do not know if that is possible."
Gastroenteritis is one of the most common killers of children in Iraq, and the main cause is contaminated drinking water. The water supply and treatment system suffered massive damage during the Gulf War. A recently unearthed Defence Intelligence Agency report in Washington revealed they may have been deliberately targeted. The report, written in the first week of the Gulf War, concluded "Full degradation of the water treatment system probably will take at least another six months."
The disease was spread rapidly by tons of raw sewage that drained into the Tigris and the Euphrates. In the 12 years since the war, some of the infrastructure has been repaired. Now it may get damaged again.
What little optimism there was that war could be avoided has been replaced by endemic fatalism. At the Shah Bandar café off Rashid Street Selim Yunys Ali, an anthropology teacher, said: "Many people here think that this will be like the bombing in 1998 or 1991. I don't think they know that this is going to be very different, and the aim of the Americans is to change Iraq for ever.
"Everyone says we have got to appear to be brave, but I don't think that there are many people who don't feel very scared. We don't know what's going to happen, and the uncertainty is the problem."
In the last 24 hours the food stores in Baghdad have begun to empty. At the Arafat district, near the centre of the capital, Hamida Nasruddin, who runs a food shop, said: "It's only now that there have been people coming in and buying lots of things for their family. They are buying the very basic things, nothing luxury.
"There is a feeling that something is going to happen this week, and there is no way one can escape from that. I myself have been buying things to store, my husband has been buying kerosene and lamps."
In these days, just before the storm, there are, for Iraq, surprising sounds of hope that the violence to come may eventually lead to better things. Majid, who runs a stationery shop, said: "This could be one of the richest countries in the world, but for the last 20 years we have had nothing but wars and sanctions. Some people are responsible for this, and they have got to answer for what has gone so wrong."
However, it is not all doom and gloom: the Baghdad stock exchange has been climbing steadily as the war clouds gather. Property prices too, are rising in the capital, Basra and Mosul as those with cash invest for the building boom to come. One of the perennial tourist purchases of Iraq is also more lucrative than ever – sales of Saddam Hussein watches, clocks and posters have never been higher.
---
How can we manifest peace on earth if we do not include everyone (all races, all nations, all religions, both sexes) in our vision of Peace?
---
The WorldPeace Banner
To the John WorldPeace Galleries Page

To the WorldPeace Peace Page