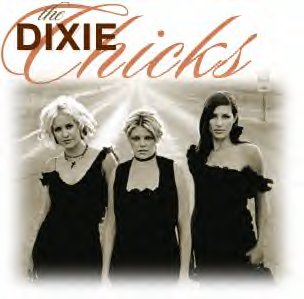 ---
March 14, 2003, 11:44PM
Chicks face Landslide of anger after remark
By LOUIS B. PARKS
Copyright 2003 Houston Chronicle
Country music superstars can break all the rules -- cheatin', drinkin', druggin' or just runnin' wild -- and still keep the love of their fans. But don't tread on the Stars and Stripes.
That's just what many country music fans believe the Dallas-based Dixie Chicks did when they criticized President Bush during a recent London performance. After 13 years of climbing their way to the top of the country music charts, the Chicks took a dive with fans when they told a foreign audience what they thought of Bush and the impending war against Iraq.
"Just so you know," Chicks lead singer Natalie Maines told the London audience, "we're ashamed the president of the United States is from Texas."
On Friday she issued an apology.
"As a concerned American citizen, I apologize to President Bush because my remark was disrespectful," Maines said. "I feel that whoever holds that office should be treated with the utmost respect. We are currently in Europe and witnessing a huge anti-American sentiment as a result of the perceived rush to war. While war may remain a viable option, as a mother, I just want to see every possible alternative exhausted before children and American soldiers' lives are lost. I love my country. I am a proud American."
When the story broke in the United States on Thursday, many country stations banished the Chicks from the airwaves.
In Houston, country stations KKBQ (92.9 FM) and KILT (100.3 FM) pulled the Dixie Chicks from their playlists.
"We've got them off the air for right now," said Jeff Garrison, program director at KILT. "People are shocked. They cannot believe Texas' own have attacked the state and the president."
The Dixie Chicks performed at Bush's gubernatorial inaugural ball in 1995, before Maines joined the group.
Before pulling songs such as Travelin' Soldier and Landslide Thursday, both KKBQ and KILT ran polls to see how their listeners felt about the issue.
"There were a few radio stations (around the country) that immediately went out and banned them," said Michael Cruise, program director for KKBQ and KTHT (97.1 FM). "We didn't want to be hasty. We knew how the wind was going to blow, because you know how patriotic Texans and country music listeners are. We decided the fair thing to do was to put a Web poll up and ask our listeners, and whatever you guys decide, we'll abide by.
"We ended the poll at 2:30 p.m. today. It was 72 percent in favor of dumping the Chicks from the playlist."
KILT's poll was still running on its Web site (www.kilt.com) Friday night. At 7 p.m. results were 75 percent for not continuing to play the Dixie Chicks, 9 percent to stop playing them for a while and 15 percent to keep playing them, with 1 percent no opinion.
Not all stations dropped the group. Paul Williams, program director at KPLX (99.5 FM) in Dallas, said his station heard listeners' complaints but didn't want to jump on the bandwagon.
In Houston, listener-sponsored Pacifica radio station KPFT (90.1 FM), said it would play the Dixie Chicks now more than ever.
"I just heard about it an hour ago from a caller who said there is some kind of boycott against the Dixie Chicks," said Wendy Schroell, KPFT administrative assistant. "That is the craziest thing I have ever heard. We are going to be playing them all the time. If people are calling them un-American, how American is it to boycott someone for something they think?"
The Dixie Chicks will perform at the Compaq Center on July 30.
---
How can we manifest peace on earth if we do not include everyone (all races, all nations, all religions, both sexes) in our vision of Peace?
---
The WorldPeace Banner
To the John WorldPeace Galleries Page

To the WorldPeace Peace Page