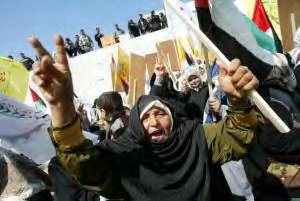 A Palestinian woman shouts anti-US slogans during a rally in support of Iraq by Palestinian women on Saturday in Gaza. Meanwhile, in what many saw as a last chance to head off military action, tens of thousands of anti-war protesters marched in several demonstrations around the US yesterday in opposition to the Bush administration's policy on Iraq. (Getty Images)...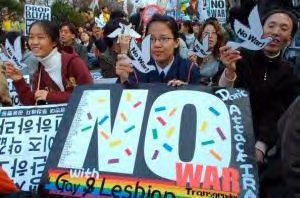 From Tokyo to Beirut, Paris to Washington, hundreds of thousands of people took to the streets on Saturday in what many saw as a last-ditch global protest against any US-led war on Iraq(Getty Images)...
---
Global protests denounce war


Demonstrations are held in U.S., Europe and Asia
---
From Wire Reports
Originally published March 16, 2003

WASHINGTON -- In what many saw as a last chance to head off military action, tens of thousands of anti-war protesters marched in several demonstrations around the country yesterday in opposition to the Bush administration's policy on Iraq.
In Washington, just hours after President Bush said in his weekly radio address that he saw little chance that Iraq would disarm without the use of force, throngs of protesters armed with banners and bullhorns implored Bush to abandon a possible war.
"The people can stop the war," Rep. John Conyers Jr., a Michigan Democrat, told thousands of cheering supporters gathered near the Washington Monument on a mild and sunny afternoon. He urged people to continue to protest "until this madness is ended."
Marching on streets that pass within a block or two of the White House, which they were not allowed to approach more closely, the protesters flooded nearly a dozen blocks of city streets in a sea of colorful and often angry anti-war banners and chanted slogans.
Although police gave no official crowd count, a park police supervisor working the scene estimated that the protesters totaled 50,000 people.
Protesters gathered to listen to speeches, then marched around the White House.
Bush was at Camp David.
Police said the crowd was generally peaceful, although about a half-dozen people were arrested for illegally entering the lobby of the World Bank, a target of past economic protests. Hundreds of police enforced barricades and massed at intersections.
The U.S. protests were part of a coordinated worldwide effort to rally support against the war.
Angered at their government's unwavering support for U.S. policy on Iraq, Spaniards took to the streets yesterday, one of hundreds of anti-war demonstrations around the world.
For the second time in a month, crowds of demonstrators jammed the center of Madrid, waving anti-war placards and chanting insults against President Bush and one of his strongest allies, Prime Minister Jose Maria Aznar of Spain.
"We are marching against the law of the jungle that the United States and its acolytes old and new want to impose on the world," Jose Saramago, the Portuguese writer and Nobel laureate, told the crowd -- estimated by news organizations at about a half-million -- in Madrid's Puerta del Sol. Another demonstration was staged in Barcelona, where the police said 300,000 people participated, some of them forming a 3-mile human chain.
In Seoul, South Korea, 3,000 protesters held towering candles as they paraded through the capital.
About 15,000 rallied in Athens, Greece, with a giant reproduction of Guernica, Picasso's anti-war painting. In Moscow, 1,000 people demonstrated in front of the U.S. Embassy.
In London, where an estimated 1 million people marched in January to protest a possible war, protests took place in several residential neighborhoods.
In Montreal, about 250,000 people marched through the streets shouting anti-war slogans in what was the largest of 30 demonstrations in Canada.
About 100,000 people demonstrated in Berlin, according to police estimates, while 50,000 demonstrators gathered in the Place de la Nation in Paris.
In central Tokyo, an estimated 10,000 people filed through downtown streets to applause from passers-by.
In San Francisco, demonstrators filled Civic Center Plaza, ignoring forecasts for heavy rain and possible unruly acts by splinter protest marchers. Neither the police nor protest organizers provided an estimate for the crowd.
In Los Angeles, the Rev. Jesse L. Jackson led a noisy -- and soaking wet -- procession of about 2,500 people through downtown. Tama Winograd, a music executive from Hollywood, said the weather was not a hindrance. "I would be here today, even if there was an earthquake," Winograd said.
About 30,000 protesters converged on the banks of the Willamette River in Portland, Ore. Rep. John Lewis, a Georgia Democrat, told the crowd, "People around the world will not be inspired by our missiles and our guns; they will be inspired by our ideas."
Separately, a group of 41 Nobel laureates in science, medicine and economics who signed a statement in January opposing war with Iraq said yesterday that eight more laureates, all winners of the Nobel Peace Prize, have joined their cause. The eight include Desmond Tutu and the Dalai Lama.
A New York Times/CBS News Poll last week found that 55 percent of Americans would support an American invasion of Iraq even in defiance of the United Nations.
Copyright © 2003, The Baltimore Sun
---
Protesters across the world demand "No War"

REUTERS SUNDAY, MARCH 16, 2003 07:50:00 AM

PARIS: From Tokyo to Beirut, Paris to Washington, hundreds of thousands of people took to the streets on Saturday in what many saw as a last-ditch global protest against any U.S.-led war on Iraq.

Protests ranged from the release of pigeons into the skies over Bangkok as symbols of peace to the burning of effigies of U.S. President George W. Bush in Calcutta and the Gaza Strip.

Demonstrators united behind a "Give Peace A Chance" message to Bush and his two main allies, British Prime Minister Tony Blair and Spanish Prime Minister Jose Maria Aznar, on the eve of their summit that could begin a quick countdown to war.

The numbers appeared lower than in a similar global protest on Feb. 15, when estimates put the figure at upward of 4 million and perhaps as high as 10 million.

As Bush got ready at his rural Maryland retreat to fly to the Azores islands in the Atlantic to meet Blair and Aznar, tens of thousands from more than 100 U.S. cities surrounded the White House to voice their opposition to war.

"President Bush, listen to your people -- the American people before you today who say, 'No war in Iraq'," university student Peta Lindsay told the rally.

The demonstrators, carrying signs with messages including "Stop Mad Cowboy Disease" above a picture of Bush, were kept a block away from the White House.

Thousands more marched in other cities across North America, including Montreal, Toronto, Los Angeles, Boston and Tampa, Florida, home of the U.S. Central Command.

There were counter-demonstrations in a few U.S. cities. About 2,000 people in Atlanta praised the armed forces and Bush at a "Rally for America."

In San Francisco, thousands of protesters chanted, played guitars, beat drums and carried signs reading "How many lives per gallon?" in an anti-war march that stretched for about a dozen city blocks.

Time for anger

For many it was a time to vent their anger at what they saw as an unstoppable march to war by Bush.

In Paris, protesters wore T-shirts emblazoned with pictures of Bush and the slogan: "Wanted: Terrorist Number One."

Some 2,000 Palestinians in the Gaza Strip set fire to effigies of Bush and Israeli Prime Minister Ariel Sharon as well as U.S., British and Israeli flags.

Turkish riot police blocked roads leading to the Mediterranean port of Iskenderun to try to stop demonstrators reaching stores of U.S. military equipment.

Aznar was reminded of the unpopularity of his support for Bush over Iraq when hundreds of thousands of protesters poured into the center of Madrid. Prominent actors, writers, opposition politicians and union leaders led marchers of all ages waving placards saying: "Aznar, Murderer."

In Barcelona, police estimated some 300,000 formed a human chain stretching across the city from the U.S. consulate to regional offices of Aznar's ruling Popular Party.

Polls show more than three-quarters of Spaniards oppose an attack on Iraq.

French officials estimated some 150,000 people marched in dozens of cities, backing President Jacques Chirac in his opposition to any U.S.-led rush to war.

"Eat some more pretzels, Bush," said one placard, referring to an incident a year ago in which Bush choked and fainted while eating the snack food.

Day of protest

Kicking off Saturday's protests, around 10,000 marched in Tokyo. Protests were also reported in Vietnam, Thailand, India, Australia and New Zealand.

In Europe, police said 20,000 Greeks marched to the U.S. Embassy in Athens and around 30,000 people walked through Brussels, including Deputy Prime Minister Johan Vande Lanotte.

In Milan, thousands joined a protest organized by Italy's biggest trade union confederation CGIL.

In a message to Italian Prime Minister Silvio Berlusconi, who has supported Bush, CGIL head Guglielmo Epifani said: "When the first bombs fall, this country will grind to a halt and the workers united will say no to war."

In Germany, hundreds of anti-war activists staged a sit-in protest at a U.S. air base near Frankfurt that the United States uses to transport troops and supplies to the Gulf region. Police carried some of the protesters away.

"Especially now, shortly before the possible start of a war, it is extremely important to make our resistance visible at this central hub for the deployment of troops to the Gulf," organizer Christoph Bautz said.

In Denmark, police said some 5,000 people gathered outside the U.S. embassy in the capital, Copenhagen, far fewer than the 25,000 who showed up on Feb. 15.

"We all know that (Iraqi President) Saddam (Hussein) needs to be stopped, but (war) is not the way to do it," a woman said. "What I'm wondering is who's going to stop Bush? We don't want a war that is about one man's will."

Between 3,000 and 4,000 people turned out in Stockholm.

In London, British Muslims marched on the embassies of Muslim countries to demand that their governments stand up against any push toward war.

"The governments of the Muslim world have the power to stop this war by disallowing America and its allies from using their land, air space, waterways and logistics to perpetrate it," said march organizer Imran Waheed.

In Iraq itself, there were state-organized marches with thousands of Iraqis vowing to defend Saddam.

And more than 5,000 Argentine protesters marched to the U.S. Embassy in Buenos Aires.
---
How can we manifest peace on earth if we do not include everyone (all races, all nations, all religions, both sexes) in our vision of Peace?
---
The WorldPeace Banner
To the John WorldPeace Galleries Page

To the WorldPeace Peace Page