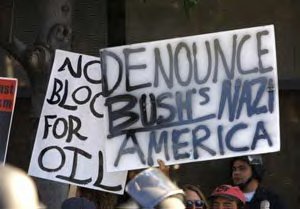 ---
War protesters decry 'day of shame'

Anti-war campaigners are urging people to stop work and protest as war begins on what they have branded a "day of shame" for the UK.

The Stop the War Coalition hopes thousands will take part in demonstrations on Thursday as anti-war campaigners vent their anger at the attacks on Baghdad.

The coalition is calling on people to mass at Parliament Square in Westminster in a show of anti-war feeling at 1800 GMT.

There were protests around Westminster on Thursday morning, while demonstrators blocked roads in Leeds, Newcastle and Bradford, and around 100 people marched into Sheffield city centre.

Protesters were gathering in Jersey's St Helier's Royal Square while students at schools in the West Country faced suspension for skipping lessons to attend anti-war protests.

Around 200 anti-war campaigners marched through Cardiff, while in Exeter, schoolchildren stopped buses going through the city centre.

Civil servants, including some working in the office of Deputy Prime Minister John Prescott, are set to take action during their lunch break.

'Ridiculous war'

Armed police were deployed at RAF Fairford in Gloucestershire where US B52 bombers are stationed and which has been the focus of peace protests.

Stop the War coalition chairman Andrew Murray said: "The war has started which is an outrage against world peace, against the population of Iraq and against law and democracy in Britain.

"This is going ahead without the support of British people. This is a day of shame for Britain. Our country has been dragged into a ridiculous war by a US administration which has shown contempt."

Anti-war groups are organising a national demonstration in London on Saturday.

Mr Murray stressed: "We call on the people of Britain to demonstrate against the war - to walk out from work or hold protest meetings.

"We call on school students to walk out and for teachers to join them and we want students to leave or occupy their colleges."

Police were forced to move a sit down protest of tens of chanting young people from the road opposite the House of Commons and on to grass by a statue of Sir Winston Churchill.

A 100-strong group tried to stop traffic in Whitehall, before gathering outside Downing Street, while several hundred others waved banners in Parliament Square calling for an end to the war.

'Devastating'

CND said it was "appalled" by the start of the "illegal, immoral war against Iraq".

"This war will, in all probability, kill and injure hundreds of thousands of innocent people and devastate the entire nation, weakened already by 12 years of economic sanctions," a spokesman said.

"Mr Blair has made a grave error of judgment when he abandoned the UN route to follow the US road to war."

Osama Saeed, spokesman for the Muslim Association of Britain, described Thursday's bombings as "dreadful".

If America gave Iraq back to its people, "we would come back here and apologise to America", he said, but feared the hostilities will result in "many casualties".

'Revulsion'

Labour rebel Alice Mahon told a news conference on Thursday: "This is the most one-sided war in the history of mankind."

Labour left-winger Jeremy Corbyn said: "The ordinary people of this country are showing revulsion over what is going on."

Colleague George Galloway said Labour MPs had let everyone down.

"I don't expect Parliament will rise to the occasion today - that's why British people are taking to the streets."

International human rights campaigner Bianca Jagger said she was proud of the way British people had taken to the streets to oppose war, stressing it was the only way to hold the UK government to account.

Meanwhile, aid agencies urged the government to take "all possible precautions" to avoid civilian casualties during the conflict.

Funding plea

The directors of Christian Aid, Cafod, Oxfam, Save the Children and Action Aid, also called for a "massive" increase in government funding to help the UN deal with a possible humanitarian crisis.

The government has already promised an initial £10 million for humanitarian relief efforts in Iraq.

But aid agencies believe this funding has come from the Department for International Development's existing budget saying no new funds have been made available.

The agencies also called for a new UN resolution to establish alternative food distribution systems in Iraq if the current system collapses during the conflict.

The UN is predicting that up to three million Iraqis may leave their homes but remain within Iraqi borders, while a further 600,000 may seek refuge beyond the borders.
---
How can we manifest peace on earth if we do not include everyone (all races, all nations, all religions, both sexes) in our vision of Peace?
---
The WorldPeace Banner
To the John WorldPeace Galleries Page

To the WorldPeace Peace Page