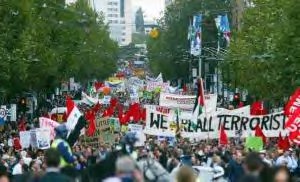 War protests began to roll across Europe and the Middle East on Thursday after the opening salvos of the war against Iraq sparked angry demonstrations in Asia and Australia.
---
Protests flare across globe as US strikes Iraq

21.03.2003

1.00am A wave of anti-war protests began to roll across Europe and the Middle East on Thursday after the opening salvos of the war against Iraq sparked angry demonstrations in Asia and Australia.

Barely three hours after the first United States missiles struck Baghdad, a crowd that organisers put at 40,000 and which police said numbered "tens of thousands" brought Australia's second largest city, Melbourne, to a standstill.

In Germany, 50,000 school students marched from Berlin's central Alexanderplatz past the guarded US embassy and through the Brandenburg Gate.

The crowd whistled and chanted and carried banners saying "Stop the Bush fire", "George W Hitler", "No blood for oil".

"The war is illegal and it should be resolved by the United Nations," said 18-year-old David Stassek, carrying a banner that read: "Stop US imperialism". Pia Telschow, a 14-year-old from Berlin, said: "Bush is just carrying on his father's war."

Bigger demonstrations were planned for later on Thursday in the capital and in dozens of other towns and cities. Some 5000 pupils were also demonstrating in Cologne.

In France, the most vocal Western opponent of the war, a string of organisations planned a 1700 GMT (0500 NZT) rally outside the US embassy in Paris. The mission was barricaded off to the public by mid-morning and surrounded with 15-20 police vans, a water cannon and scores of police, some with riot shields.

By midday a small group of pro-Iraqi protesters had gathered at the adjacent Place de la Concorde and were joined by some 70 students from an Iraqi secondary school who shouted "Bush-Blair Assassins!" and other chants in Arabic.

In Italy, anti-war activists and labour unions staged demonstrations and downed tools. Protesters in Milan held a vigil in front of the city's cathedral while in Venice and Rome groups of hundreds gathered for spontaneous sit-ins.

"We want to bring cities to a standstill," said Luca Casarini, one of the organisers. "We don't want people to get used to the idea of war, to think it's normal."

Thousands more were expected to take part in a march to the US embassy in Rome in the afternoon. Public sector workers declared a day-long strike while Italy's three biggest unions, with a combined 11 million members, said they would strike for two hours to protest against the attacks.

In Greece, where there is bitter public and government opposition to the attack on Iraq, the centre of Athens was turned into a huge protest arena. Nearly 10,000 people including many schoolchildren gathered to march to the US embassy. Greek police rushed reinforcements to the embassy to protect it.

British anti-war campaigners blocked roads, boycotted schools and workplaces, and began gathering in public places.

"I am surprised how quickly the protests have kicked off," John Rees, of the umbrella Stop the War Coalition, said as he dashed to a gathering in London's Parliament Square.

In Spain, several hundred chanting demonstrators gathered outside the US embassy in Madrid.

Austria's capital Vienna saw a protest march by thousands of schoolchildren. Some 20 towns in Switzerland were preparing for demonstrations, with students and school pupils boycotting studies.

In the Gaza Strip, Palestinian children marched in the Rafah refugee camp, holding Iraqi flags and posters of Iraqi President Saddam Hussein, and setting fire to Israeli and US flags.

About 150 people marched in the West Bank city of Bethlehem waving Iraqi and Palestinian flags and carrying portraits of Saddam.

Egyptian police in Cairo's central Tahrir Square beat back protesters trying to reach the nearby US embassy and cordoned off the area, restoring order, security sources said.

Australia, a staunch ally of the United States, deployed armed police for the first time around parliament in Canberra and increased their presence at US diplomatic missions.

Anti-American sentiment was stronger still in Muslim Indonesia, Malaysia and Pakistan, where many saw the attack as the beginning of an American campaign to subjugate the Islamic world and seize control of oil.

In Pakistan there were scattered but peaceful rallies across the country against what some called "American terrorism".

Hundreds of people took to the streets of the commercial hub of Karachi, the cities of Multan and Lahore, and Peshawar on the northwest frontier with Afghanistan, as well as Rawalpindi.

Indonesia's biggest rally was in Jakarta, where 2000 people from a conservative Muslim party sang and chanted anti-American slogans outside the heavily-fortified US embassy. There were also protests in the cities of Bandung, Yogyakarta and Makassar. Local radio said police in the central Java city of Semarang had clashed with 50 students after they burned an effigy of US President George W Bush. Several students were slightly hurt.

- REUTERS
---
Worldwide protests follow US assault on Iraq
By Our International Staff Published: March 20 2003 9:24 | Last Updated: March 20 2003 11:21

Tens of thousands of protestors massed on Thursday in some of the biggest cities of Europe, the Middle East, and Asia to demonstrate in some cases violently - against the US-led bombardment of Baghdad.

Angry marchers gathered in Parliament Square, London, while in Melbourne, Australia, 40,000 protestors choked the city's business area.

Crowds also massed in Madrid, capital of pro-war Spain, where José María Aznar, prime minister, sought to reassure a sceptical public that the threat of international terrorism left no room for "neutrality or indifference".

In the cities of nations whose governments opposed the war, Berlin saw a march of 80,000 schoolchildren, and in Paris, 10,000 students took to the streets. In neutral Switzerland, police fired tear gas to quell a crowd nearing the US diplomatic mission in Geneva.

French President Jacques Chirac said that France, one of the five permanent members of the Security Council, "regretted" the US-led attack on Iraq. The German government echoed President Chirac's sentiment, saying that news of the war against Iraq had sparked "grave concern and dismay". Russia's president Vladimir Putin called the attacks a "big political mistake", and called for military action end immediately.

China, another permanent member of the Security Council, which, like France, Germany and Russia has consistently opposed the use of force in Iraq, also strongly condemned the action as a "violation of the UN charter and international law" and called for an immediate halt to the war and a return to efforts to resolve the crisis peacefully.

Demonstrations in Egypt, Lebanon and India turned into confrontations between protestors and police as crowds appeared to head toward US buildings. Police sprayed crowds with water hoses in Beirut, and in Calcutta, several police and demonstrators were injured near a US cultural center. Crowds also gathered in the predominately Muslim nations Pakistan, Indonesia and Malaysia.

An speech from John Howard, Australia's prime minister, defending the nation's pro-war stance was not enough to quell the growing political wrangling over Australia's decision to commit 2,000 troops to the war. Some 40,000 protesters tied up business in Melbourne, Australia's second city.

In the US itself dissent was sporadic but visible. Protestors in San Francisco marched through the city's central business district, snarling rush hour traffic. In New York, meanwhile, a massive antiwar rally is slated for Saturday afternoon.

Across Asia, Muslim leaders condemned the attack and said Americans would pay the price. In a harshly worded statement, Indonesia, the world's most populous Muslim country, urged the UN to call an emergency meeting.

"Indonesia strongly denounces the unilateral attack on Iraq," Megawati Sukarnoputri, Indonesia's president, said after a lengthy morning cabinet meeting.

Malaysia's deputy prime minister, Abdullah Ahmad Badawi, said in an address to the nation that the US-led attack was "a black mark in history" and that the world was now seeing "might is right". In Pakistan, where General Pervez Musharraf, its military ruler, remains a close ally of the US in its war on terrorism, opposition Islamist parties called a general strike to protest against the war on Iraq.

In New Delhi, Atal Behari Vajpayee, India's prime minister, expressed his "deepest anguish" over the start of military operations. But the government statement was more notable for what it did not say.

"It is a matter of grave concern that continuing differences within the Security Council prevented a harmonization of the positions of its members," said the statement.

Japan was among a handful of countries to express support for the US. Junichiro Koizumi, the prime minister, reiterated his moral backing for Washington, despite clear indications that Japanese public opinion is largely against the war.
---
Heath Ledger slams war
March 21 2003

Australian film star Heath Ledger has added his voice to the anti-war movement, calling on Prime Minister John Howard to "grow up" and assert the nation's independence.
In Melbourne to launch the new Ned Kelly movie, in which he stars in the title role, Ledger said yesterday Australia's involvement in the war on Iraq was ridiculous.
"I think John 'Coward' should just grow up," he said while watching the war on Iraq unfold on television.
"He's so subservient to this guy (US President George Bush) and they're sending 250,000 troops over there, why should we send our 2000, it makes no difference.
"We've got nothing to do with it, we've got to grow up and be independent.

"All of a sudden we're an aggressor, we're part of this, we're supporting this aggression, and it's ridiculous, we shouldn't be."
Ledger said it was strange to be publicising a movie in the midst of war breaking out.
"It's surreal for me to be sitting here, talking to you and giving an interview while they're dropping 3000 bombs on Bagdad," he said.
"It's really hard to sit here and be happy about a movie opening, 'cause it just makes you realise the insignificance of this, it means nothing in comparison.
"The one thing I do have is the opportunity to be heard and it's something that the average person can't stand up and say 'Hey, we shouldn't be doing this.'
"It's just my opinion, but I think it's the right one. I don't think war is the answer to anything.
"It's a very, very sad day."
---
How can we manifest peace on earth if we do not include everyone (all races, all nations, all religions, both sexes) in our vision of Peace?
---
The WorldPeace Banner
To the John WorldPeace Galleries Page

To the WorldPeace Peace Page