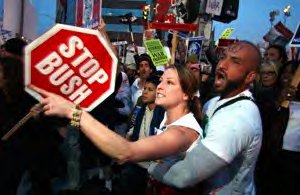 A war protester yells at police after having been forced from occupying of the street in Los Angeles, California. Anti-war demonstrators staged huge marches across the world yesterday, often clashing with police as they converged on heavily guarded U.S. embassies. Violence erupted at protests in Egypt, Spain, India, Belgium, Switzerland and Lebanon as police used water cannon or batons to disperse thousands of protesters. (Getty Images)..
---
Mar. 21, 2003. 01:00 AM

Violence mars global anti-war demonstrations

120,000 take to streets in Berlin San Francisco arrests top 1,000

ROSS COLVIN

REUTERS NEWS AGENCY

LONDON—Anti-war demonstrators staged huge marches across the world yesterday, often clashing with police as they converged on heavily guarded U.S. embassies.

Violence erupted at protests in Egypt, Spain, India, Belgium, Switzerland and Lebanon as police used water cannon or batons to disperse thousands of protesters.

Barely three hours after the first cruise missiles slammed into Baghdad, a wave of demonstrations began in Asia and Australia and rolled swiftly across the Middle East and Europe to the United States, where tens of thousands of protesters blocked streets in San Francisco and other U.S. cities.

Police arrested more than 1,000 people in San Francisco yesterday — the most demonstrators taken into custody on a single day in the city in 22 years.

In Berlin, more than 120,000 protesters took to the streets in two waves of demonstrations to express anger and frustration over the U.S.-led attack on Iraq. Thousands of high school students staged seemingly spontaneous walkouts in the morning, joining other protesters in a noisy but peaceful demonstration that wound its way past the U.S. Embassy to the nearby Brandenburg Gate monument.

In Belgium, where Prime Minister Guy Verhoftstadt said his country was "profoundly disappointed" by the attack on Iraq, police fired water cannon to disperse more than 2,000 demonstrators outside the U.S. Embassy in Brussels. Police said a policeman and a protester had been taken to hospital with injuries.

Swiss police fired tear gas to disperse hundreds of protesters, also mainly students, who marched on the U.S. diplomatic mission in Geneva.

Spanish police in riot gear fired rubber balls at anti-war demonstrators, including well-known actors and celebrities, who gathered in central Madrid in protest at Prime Minister Jose Maria Aznar's support for the U.S.-led attacks on Iraq.

They also beat demonstrators with batons in an attempt to break up the crowd, witnesses said, injuring at least two people, according to Spanish newspaper El Mundo.

Violence erupted in Calcutta, eastern India, when about 1,000 protesters waving banners reading "U.S. warmongers go to hell" tried to storm a U.S. cultural centre. At least 12 policemen and six demonstrators were injured when cane-wielding police drove them back, a senior police official told Reuters.

In the West African state of Mauritania, protesters raided the compound of U.S.-based aid agency World Vision, smashing windows and attacking seven cars parked in the yard.

The only reported clash outside a British Embassy was in the Lebanese capital Beirut, where around 1,000 protesters were doused with water from a fire truck when they crossed barriers outside the mission. Witnesses said police beat several of them.

In Italy, where Prime Minister Silvio Berlusconi is one of Washington's staunchest allies on Iraq, the three biggest trade unions staged a two-hour strike.

Italian cities were thrown into chaos as tens of thousands of protesters took to the streets, blocking train stations and highways.

In France, more than 40,000 people, mostly students, marched on the U.S. Embassy in Paris chanting anti-war slogans.

Public support for French President Jacques Chirac's stout opposition to a U.S.-led war in Iraq climbed to 92 per cent in a poll published today in Le Figaro daily newspaper.

Thousands of British anti-war campaigners, enraged by the involvement of British troops in a war they see as an illegitimate grab for oil by Washington, blocked roads and scuffled with police as protests spread across Britain.

Protests also took place in Greece and Austria.

In the Gaza Strip, about 1,000 Palestinian women and children marched in the Rafah refugee camp, holding Iraqi flags and posters of Saddam and setting fire to Israeli and U.S. flags. About 150 people marched in Bethlehem in the West Bank.

Protesters brought traffic to a standstill in Melbourne, the second largest city in Australia, a staunch ally of the U.S. Anti-U.S. sentiment was also strong in Muslim Indonesia, Malaysia and Pakistan.
---
Protesters jam city streets

by Kay Lazar and Robin Washington

Friday, March 21, 2003

With thunderous drumbeats and chants of ``peace now'' echoing down Boylston Street, several thousand students and faculty from colleges across Boston and Cambridge yesterday marched in protest of war with Iraq on the first full day of the U.S.-led military action.

Waving banners, political puppets and sporting '60s-era peace signs, the sea of protesters stopped traffic and business for blocks, as scores of workers from office buildings overlooking the march watched the noisy procession.
``It's really important for students across this city to send a message loud and clear that business will not go on as usual as long as we're destroying another country,'' said Emerson College junior Mandie Yanasak.
Similar protests were staged across the country with thousands of protesters, some chained together, blocking streets in San Francisco and other cities. More than 100 demonstrators in Washington, D.C., temporarily shut down the Key Bridge, a major route into the city from Virginia.
Boston's anti-war actions started shortly after noon, when an estimated 1,000 protesters walked out of classes at Harvard, joined hundreds more at MIT, and marched over the Massachusetts Avenue bridge, clogging and briefly closing the Charles River span that links Cambridge and Boston.
The procession grew to an estimated 4,000 as demonstrators joined in Copley Square and marched past the State House to Government Center.
``I can't believe this, on the day we are invading,'' said a disgusted Ralph White, a Korean combat vet who briefly argued with one of the marchers near the State House in a tense scuffle that had to be broken up by police.
But another Korean War vet, sporting an American flag pin, said he had ``no qualms'' as he watched the anti-war protesters.
``That's what the flag stands for,'' said Joe Bagadonis, 68, of Bedford. ``When I was in a war, it was to make sure people could express themselves, and I feel I was successful.''
Erin Klatt, 31, of Malden, said protesters support the nation's troops and want to bring them home safely.
``I don't this war is worth risking their lives,'' said Klatt, a member of the Revere Malden Action Committee Against War. ``I don't think we have the right to invade a country that hasn't invaded us. It sends a dangerous signal to other countries, like India and Pakistan, and makes us more vulnerable to terrorist attacks.''
MIT professor Ian Condry, 38, pushed his 2-year-old son in a stroller while his 7- and 5-year-old sons walked by his side.
``My heart goes out to the Iraqi children and other civilians caught in this firestorm,'' he said. ``It's for the children and the next generation that we need to work harder on rethinking America's direction.''
Despite more than five hours of protests and some tensions along the route, Boston police reported no arrests.
However, a protester was arrested and charged federally with blocking entry to the JFK Building. He faces trial this morning after demanding police jail him for the duration of the war.
The man, who called himself ``Peaceful Pilgrim,'' refused to give his name to authorities. He will be tried before U.S. Magistrate Judge Charles B. Swartwood. He faces a maximum 30 days in jail.
Later in the evening, protesters tried to enter the Copley Square on-ramp to the Mass Pike, but were blocked by police on motorcycles.
From there, they headed to the Massachusetts Avenue bridge and back to Cambridge.
In Natick, a multifaith group of about 100 organized by the Peace Abbey in Sherborn marched two miles from the town common to the U.S. Army's Natick Labs.
Natick police Chief Dennis Mannix said 18 protesters were arrested on charges of trespassing on federal property after refusing to leave the gate of the complex housing the U.S. Army Soldier and Biological Chemical Command.
``They were all very peaceful people,'' he said. ``We had hoped they would have decided to have only one or two arrested and we wouldn't have had to arrest that many.''
Protester Carol Sakala said the war would only encourage terrorism, spelling an uncertain future for her two children, Leah and Jonah, who protested with her.
``This was about the saddest day of my life. There is no merit to this, there is no wisdom, this is illegal,'' she said.
Added 10-year-old Jonah: ``If we spent all the billions of dollars we're spending on the war on other sources of power - solar power, wind power - we wouldn't need any of this oil.''
On the way, the marchers passed Natick Center Graphics, where worker Sarah Litchfield noticed ``a lot of people'' but said their efforts were likely futile.
``I think it's too late. I think we need to go in,'' she said.
But protester Mare Tomaski of Wayland called the military action an ``illegal war'' that she unhesitatingly rallied against.
``I want my actions to reflect my convictions,'' she said. ``If there's a petition to sign, I'll sign it. If there's a protest, I'll go.''
Though their protest may have done little to stem the military campaign in Iraq, it did affect firearms in Natick, if only temporarily.
``No gun permits processed today due to personnel being used for crowd control for a peace demonstration,'' a sign in the police station read.
J.M. Lawrence and Marie Szaniszlo contributed to this report.
---
How can we manifest peace on earth if we do not include everyone (all races, all nations, all religions, both sexes) in our vision of Peace?
---
The WorldPeace Banner
To the John WorldPeace Galleries Page

To the WorldPeace Peace Page