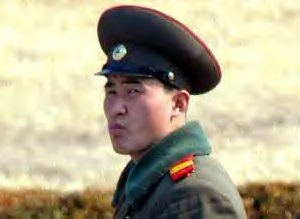 A North Korean soldier stands guard on his side of the truce village of Panmunjom, on the Demilitarized Zone (DMZ). North Korea is preparing for possible war with the United States and is concerned about Washington's intentions after its attack on Iraq, said a UN envoy who returned Saturday from the North. (Getty Images)...
---
Today: March 22, 2003 at 1:30:35 PST
U.N. Envoy: N. Korea Preparing for War
By JOE McDONALD
ASSOCIATED PRESS

BEIJING (AP) -

North Korea is preparing for possible war with the United States and is concerned about Washington's intentions after its attack on Iraq, said a U.N. envoy who returned Saturday from the North.

North Korean officials say missile tests and other recent steps that have unsettled its neighbors were meant as preparation for such a conflict, said Maurice Strong, a Canadian aide to Secretary General Kofi Annan. Strong was visiting Pyongyang as part of U.N. efforts to mediate the North's nuclear crisis with the United States.

South Korea put its military on heightened alert this week, and on Saturday the North retaliated by canceling economic talks scheduled for next week. That could mean it will also suspend more important inter-Korean talks next month aimed at easing nuclear tensions.

The United States says it wants a peaceful settlement to the dispute. But the U.S. war in Iraq is getting intense study from North Korean officials, Strong told reporters.

"They are watching it very carefully and with deep concern, and questioning what this means in terms of the U.S. ultimate intentions toward them," Strong said.

Asked whether North Korean leaders feared they would be the next target of U.S. military action after Iraq, Strong said, "Fear I do not believe is in their vocabulary. Concern, yes, real determination to seek a peaceful settlement. At the same time, preparation for war, if necessary."

Strong did not say specify how he knew about the military preparations, and gave no details.

He said officials expressed "deep concern for the threats that they perceive to their own security, and a determination to defend their security and their integrity."

Tensions on the Korean Peninsula have been high since Washington said in October that the North had admitted starting a nuclear weapons program in violation of a 1994 agreement.

Strong said he met with "very senior people," but wouldn't give their names or other details. He said he was conveying "guidance and information" between the two sides but couldn't discuss it before he reports to Annan.

Both Washington and Pyongyang have said they want a peaceful settlement, and Strong said North Korean officials expressed optimism that one was still possible.

But Washington has rejected the North's request for direct talks, saying instead other governments must be involved - a condition that Pyongyang has rejected.

"Until those discussions occur, the risks that the process will degenerate, without the intent of either party, into a conflict still remain," Strong said.

Washington and Pyongyang, which fought on opposite sides in the 1950-53 Korean War, have never had diplomatic relations.

With the United States focused on Iraq, experts fear North Korea might use the opportunity to test a long-range missile or reprocess spent nuclear fuel to make atomic bombs. That would be viewed as an attempt to force Washington into direct negotiations.

Asked whether North Korea might try to use tensions over Iraq to try to force a compromise, Strong said, "I don't think forcing the U.S. is anything they realistically consider. They want the U.S. to engage them in direct negotiations."

The two Koreas had planned to begin talks in Pyongyang Wednesday to discuss ways of boosting economic cooperation. Topics included opening territorial waters to commercial ships from each side.

The South put its military on heightened alert Thursday, saying it wanted to guard against any effort by Pyongyang to raise tensions during the Iraq war. The North reacted by calling off the meeting.

"When our dialogue partner is threatening us with a dagger, we have no option but to conclude that we must delay the talks," said Pyongyang's state-run Central Radio, which was monitored by South Korea's Yonhap news agency.

--
---
How can we manifest peace on earth if we do not include everyone (all races, all nations, all religions, both sexes) in our vision of Peace?
---
The WorldPeace Banner
To the John WorldPeace Galleries Page

To the WorldPeace Peace Page