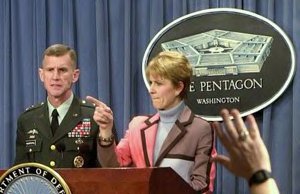 Army Major General Stanley A. McChrystal (L), vice director for Operations, and Assistant Secretary of Defense for Public Affairs Victoria Clarke takes questions at the Pentagon. US troops hunting in Iraq for banned chemical and biological weapons and Scud missiles have so far come up empty, the Pentagon says.(Getty Images)...
---
U.S.: No Sign of Iraq Bio-Weapons Yet
U.S. Troops Combing Iraq for Scud Missiles and Weapons of Mass Destruction Find Nothing So Far
The Associated Press
WASHINGTON March 23 —
U.S. troops hunting in Iraq for banned chemical and biological weapons and Scud missiles have so far come up empty, the Pentagon says.
Iraq denies U.S. assertions it has any chemical or biological weapons, and Maj. Gen. Stanley McChrystal, vice director of operations for the Joint Chiefs of Staff, told reporters that none had been found.
The United States will either bomb any such armaments it should find or seize them with ground forces, whichever is safer, he said Saturday.
The Iraqis have not fired any Scuds, and Special Operations forces searching airfields in Iraq's far western desert have uncovered no missiles or launchers, McChrystal said.
Iraq denies having any Scuds, which have sufficient range to reach Israel, but Gen. Tommy Franks, the war commander, said Iraq has yet to account for about two dozen of the missiles, which U.N. inspectors have said were left over from the 1991 Persian Gulf War.
Questions about the banned weapons were apt to be raised when Defense Secretary Donald H. Rumsfeld and Air Force Gen. Richard Myers, chairman of the Joint Chiefs, made the rounds of the Sunday television talk shows.
Another likely topic was a grenade attack at a 101st Airborne command center in Kuwait early Sunday, killing one and wounding 13 servicemen. The Army said an American soldier was detained as a suspect in the attack.
Meanwhile, President Bush was completing a weekend stay at Camp David, Md., where he met for 90 minutes Saturday with his administration's top national security and diplomatic officials.
Bush also spoke by telephone for 30 minutes with British Prime Minister Tony Blair, who has troops in the campaign to overthrow Iraq's Saddam Hussein and eliminate his weapons of mass destruction. Bush and Blair conferred on humanitarian aid for the Iraqis as well as progress in the war, White House spokeswoman Ashley Snee said.
The U.S. military abandoned plans Saturday to open a northern front against Iraq that would have sent heavy armored forces streaming across the Turkish border.
Defense officials said dozens of U.S. ships carrying weaponry for the Army's 4th Infantry Division will head to the Persian Gulf after weeks of waiting off Turkey's coast while the two countries tried unsuccessfully to reach a deal.
McChrystal said that even without the 4th Infantry, "there will be a northern option," declining to say what that might be. Other officials said Army airborne troops might join small numbers of Special Operations forces already in northern Iraq, where American officials fear clashes between Turkish forces and Iraqi Kurds.
Northern Iraq is an important battleground because of the Kurdish presence in enclaves not controlled by the Iraqi government. Turkey fears the Kurds will seize the northern oil fields or establish an independent state, thus complicating Turkey's conflict with its own Kurdish minority.
The Pentagon wanted to put a heavy armored force into northern Iraq and had designated the 4th Infantry for that mission. The only feasible avenue for them to reach northern Iraq was from bases in Turkey, an option foreclosed by the Turkish government.
---
How can we manifest peace on earth if we do not include everyone (all races, all nations, all religions, both sexes) in our vision of Peace?
---
The WorldPeace Banner

The WorldPeace Insignia : Explanation
To order a WorldPeace Insignia lapel pin, go to: Order
To the John WorldPeace Galleries Page

To the WorldPeace Peace Page