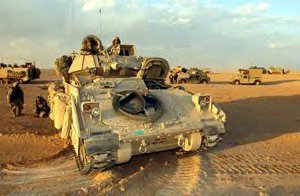 A Bradley Infantry Fighting Vehicle crew takes a break in Central Iraq. Arab foreign ministers last night condemned the "aggression" against Iraq and called for the "immediate withdrawal" of US and British forces from the country, at the end of a meeting in Egypt's capital. (US Army)...
---
Arabs call for US withdrawal

Cairo, March 25: Arab foreign ministers last night condemned the "aggression" against Iraq and called for the "immediate withdrawal" of US and British forces from the country, at the end of a meeting in Egypt's capital.

A final resolution issued after the meeting "condemns the US-British aggression against Iraq" and called for "the immediate and unconditional withdrawal of the invasion forces." It also calls on "all Arab states to abstain from participating in any military action damaging to the unity and territorial integrity of Iraq or any other Arab country".

The secretary general of the 22-member Arab League, Amr Moussa, said the resolution was adopted unanimously, except for Kuwait which expressed reservations.

Meanwhile, Muslims took to the streets across the Middle East in a fifth day of protests against the war in Iraq.

Some 12,000 students in Cairo called on God to grant victory to Iraqi forces battling the might of US and British forces, while stone-throwing demonstrators in the Sudanese capital clashed with riot police.

Several hundred flag-waving Palestinians, holding portraits of their leader Yasser Arafat and Iraqi President Saddam Hussein, also held a peaceful rally in Gaza denouncing Israel and the coalition forces.

And in Oman, hundreds of people waving portraits of Saddam thronged the main streets of Muscat, chanting slogans against the US and Britain and calling for an end to the war.

Loudspeakers on the campus of Cairo's Al Azhar Islamic university blared out songs saying "Baghdad don't suffer, Baghdad don't surrender, God is great and will grant you victory".

The lyrics were quickly taken up by some 12,000 students waving shrouds in a sign of mourning for Iraqis killed as a result of the US-led invasion, while other carried mock missiles made of plastic tubes.

The rally also featured mock funerals of US President George W Bush and his "accomplices Tony Blair and Ariel Sharon," the prime ministers of Britain and Israel.

A mock trial of Bush, Blair and Sharon using paper puppets was staged and all three were convicted of "crimes" and sentenced to death, as anti-riot police watched from a distance to make sure that the demonstration did not spread beyond the campus.

The demonstration was organised by the "Next Victory Generation", a youth group close to the banned but tolerated Muslim Brotherhood, according to one of its members.

Another 2,000 students demonstrated at Ain Shams university in northeastern Cairo, organisers said, under the watchful eyes of a large police presence.

The protests took on a more violent tone in Khartoum where several hundred students hurled stones at buldings and vehicles, prompting police to fire tear gas canisters to disperse them.

"Down with America", shouted the students, who congregated in front of the city's main mosque. Slogans condemning the government for not being vocal enough in its opposition to the war were also chanted.

The Sudanese students' trade union also called in a statement for the government to close the British and US embassies in Khartoum and sever diplomatic relations with them. It also called for a boycott of British, American and Israeli goods.

Around 500 Palestinians marched through Gaza City to cries of "Bush, Blair, the Iraqi people will be victorious". Among them were around 100 children carrying a large banner on which was written "Bush + Blair + Sharon = international terrorism".

The protest began at the offices of the International Committee of the Red Cross, where they demanded the release of Palestinians from Israeli jails.

Twenty-one people were arrested in Germany after scuffles broke out as some 20,000 protesters, most of them school students who had skipped class, protested against the war on Iraq, police said.

Police used water cannon after some demonstrators in the northern port city of Hamburg had pelted them with stones. The marchers had already moved away from the agreed route to try to reach the US consulate, but it was sealed off.

Egyptian authorities have detained two opposition parliamentarians on suspicion of inciting violent protests last week against a US-led war in Iraq, parliament sources said.

The justice ministry told parliament the public prosecutor's office had arrested Hamdein Sabahi, a member of the Nasserite party, and Mohamed Farid Hassanein, an independent, they said.

They are being held for 15 days while authorities investigate accusations they encouraged protesters to attack police on Friday, the sources said.

In Karachi, a group of clerics called for a holy war against the US and its allies because of the war.

Fourteen top clerics, including the prominent pro-Taliban Islamic scholar, Maulana Mufti Nizamuddin Shamzai, did not specify what form this would take, but said it should also target Muslim rulers who sided with Washington.

- Gulf Daily News: The Voice of Bahrain -

---
How can we manifest peace on earth if we do not include everyone (all races, all nations, all religions, both sexes) in our vision of Peace?
---
The WorldPeace Banner
The WorldPeace Insignia : Explanation
To order a WorldPeace Insignia lapel pin, go to: Order
To the John WorldPeace Galleries Page

To the WorldPeace Peace Page