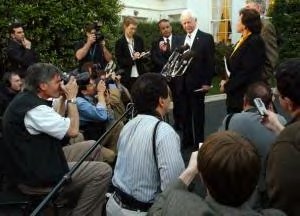 From a request by US President George W. Bush for $75 billion (48 billion pounds) in emergency funding to the postponement by South Korea of a $1 billion bond, governments around the world are counting the cost of the war on Iraq. (Getty Images)...
---
March 25, 2003 9:15 AM

Governments start to count cost of Iraq war

By Alan Wheatley, Asian Economics Correspondent

SINGAPORE (Reuters) - From a request by U.S. President George W. Bush for $75 billion (48 billion
pounds) in emergency funding to the postponement by South Korea of a $1 billion bond, governments
around the world are counting the cost of the war on Iraq.

As early market euphoria over a swift victory fades, an Australian central bank board member says
the U.S. led-war to oust Iraqi President Saddam Hussein could sap the strength of the global economy
for years to come.

Warwick McKibbin said the war was amplifying uncertainty that had been dampening confidence for
months. In the worst case, he said, it could reduce world growth by 0.75 percentage points a year for
three years.

"This war shock -- particularly the oil shocks and the shocks to global equity markets and the
wealth effects from that -- have put this negative impulse into the world economy for a number of
years," McKibbin told Reuters in Sydney on Tuesday.

U.S. light crude oil prices rose 35 cents to $29.01 a barrel, while most Asian share markets took
their cue from a 3.6 percent drop in the Dow Jones industrial average and slithered lower.

Tokyo's benchmark Nikkei stock market average fell 2.33 percent to 8,238.76 despite steps by the
Bank of Japan to cushion banks from the fallout of the war on Iraq.

The central bank said it would increase its purchases of shares from commercial banks to three
trillion yen from two trillion in what analysts saw as an attempt to minimise banks' losses on their
equity portfolios when they close their books at the end of the financial year on March 31.

The BOJ also said it would provide as much cash as needed to keep the Iraq war from destabilising
the banking system.

"The Bank of Japan is closely monitoring how the military action will affect the economy,
especially through stock and foreign exchange markets, and stands ready to make every effort including
the additional provision of liquidity to ensure financial market stability," the bank said in a
statement.

RIPPLES OF WAR

The ripples of the conflict also washed over South Korea, which postponed indefinitely a plan to
issue $1 billion in 10-year bonds because of unfavourable market conditions. The proceeds would have
paid off a bond falling due next month.

"We find it difficult to proceed with the issue as planned. Instead, we will use foreign exchange
reserves to pay back the maturing debt on April 15," Choi Jong-goo, a finance ministry official, told
Reuters.

And in the Philippines, where war jitters have compounded worries about the country's huge public
debt, investors forced the government's borrowing costs sharply higher.

The average interest at an auction of five-year bonds jumped to 12.162 percent from 10.677
percent, meaning the government will have to earmark extra money for debt-servicing that could
otherwise have gone to improve hospitals and schools.

The United States is footing the war bills more directly.

President Bush told lawmakers on Monday he urgently needed $75 billion to pay for the military
campaign in Iraq and to reward key allies supporting the war effort, officials said.

A senior administration official said the funding should cover all costs over the next six months,
but acknowledged, "There's so much we don't know."

The Pentagon said on Monday U.S. forces had advanced more than 200 miles (320 km) into Iraq and
were beginning to confront a division of the Republican Guards deployed to defend Baghdad.

But reports from the front said U.S. troops were facing stiff resistance, ratcheting up investors'
worries of a drawn-out conflict.

"The forecast of a short war was more of an equivalent to a buying recommendation on Enron," said
John Stuermer, head of global high-yield bond research at Bear Sterns in Hong Kong.
---
How can we manifest peace on earth if we do not include everyone (all races, all nations, all religions, both sexes) in our vision of Peace?
---
The WorldPeace Banner
The WorldPeace Insignia : Explanation
To order a WorldPeace Insignia lapel pin, go to: Order
To the John WorldPeace Galleries Page

To the WorldPeace Peace Page