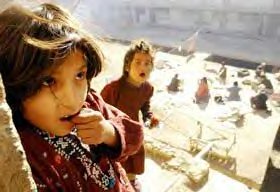 More than a year after the Taliban was evicted from Kabul, thousands of Afghan refugees living in camps in Pakistan are reluctant to return to their homes, fearing ethnic hostilities, a post-Iraq backlash and unemployment(Xinhua photo)...
---
Why Afghan Refugees Won't Quit Pakistan
Updated on 2003-04-02 10:44:20

ISLAMABAD, Pakistan: April 02 (PNS) - More than a year after the Taliban was evicted from Kabul, thousands of Afghan refugees living in camps in Pakistan are reluctant to return to their homes, fearing ethnic hostilities, a post-Iraq backlash and unemployment.

On March 17, a tripartite agreement signed in Brussels by the United Nations High Commissioner for Refugees (UNHCR) and the governments of Pakistan and Afghanistan, provided for the UN agency to assist the voluntary repatriation of Afghan refugees from Pakistan for three more years starting 2003.

In the current phase of repatriation, UNHCR will assist about 600,000 refugees to return home to Afghanistan under the voluntarily repatriation program. But, ironically, those it intends to help would rather stay put, according to the OneWorld website.

The refugees are mostly Pashtoons, Afghanistan's single largest ethnic group, who fear persecution at the hands of the ruling Northern Alliance that killed hundreds of them after the fall of the Taliban regime.

Pashtoons were unable to travel freely in their own country as the Northern Alliance forces comprising ethnic Tajiks, Uzbeks and Hazaras harassed them, said Abdul Ali, a refugee in the sprawling Kacha Garhi refugee camp in Peshwar in Pakistani's North West Frontier Province (NWFP).

"We feel safe here in Pakistan. We won't go back to Afghanistan until complete peace is restored there," said Ali, one of the 90,000 Afghan refugees living here. Ali feared that after the U.S attack on Iraq, the warlords and anti-American forces would launch a campaign against the foreign forces in Afghanistan.

The recent battle between the allies and the militia of renegade warlord Bacha Khan Zadran in Afghanistan's Paktia and Khost provinces was clear proof that disturbances would begin again, he predicted. Added Afghan vendor, Qari Samiullah, "Most Afghans will not opt for repatriation as they are likely to encounter many problems in Afghanistan. There are no schools or hospitals, and the law and order situation is very poor."

As Samiullah put it succintly, "I prefer to stay in this city in a rented house. Only those who do not have any business or employment here will go to Afghanistan."

Currently, 12,000 children were studying in 20 schools in the camp and relocation would affect their studies, he stressed. To make alternate arrangements for their schooling, repatriation should be delayed for another one year, Samiullah maintained. But refugees and aid agencies in Kacha Garhi are confronted by an even more pressing issue - the camp is targeted for closure in June after repatriation of the refugees.

Already about 3,200 houses here have been demolished for construction of a link road that will pass through the camp. The land on which the camp is located was under the joint ownership of local tribes and the Army. The government of the North West Frontier Province (NWFP) bordering Afghanistan, had purchased the land from the tribes to develop a township.

Work on the housing project had not started because of a violent dispute among the tribes that took the lives of more than a dozen tribesmen. The government was hellbent on vacating the camp to begin work on the housing scheme, said an official of the City District and Municipal Department.

Repatriation was not confined only to this camp. Refugees living in camps in Pakistan's Federally Administered Tribal Areas would also be included in the process, said Waqar Maroof of the Commissionerate for Afghan Refugees (CAR). CAR is the Pakistani agency responsible for the welfare of Afghan refugees in the country. Notices were issued to the refugees in the Kacha Garhi refugee camp some six months before the start of the fresh repatriation to vacate the camp.

Those opting against repatriation would be relocated in urban areas here, said UNHCR official Mariam Arjomand. Afghan elders in the Kacha Garhi camp unsuccessfully tried to convince the Pakistan government to delay the repatriation process for a year.

Said Afghan elder, Haji Dost Muhammad, "A delegation of elders from the Kacha Garhi camp met Afghanistan President Hamid Karzai in February and asked him to request Pakistan not to relocate them but he did not accept their plea."

A delegation of refugees sought the intervention of the Jamaat-e-Islami, a partner in the Muttahida Majlis-e-Amal government that governs the NWFP, but they expressed their helplessness. With most refugees plagued by serious doubts about a durable peace back home, the number of Afghans heading back this year will be less than the 1.6 million that returned in the first phase of repatriation that was kickstarted in March last year.

The Kacha Garhi camp was established way back in 1980 after the Russian invasion of Afghanistan. More than 50,000 refugees were repatriated from this camp last year. UNHCR has now shifted its focus from maximizing the number of Afghan returnees to ensure that repatriation became sustainable. The agency was working closely with development agencies to encourage long-term assistance inside Afghanistan, said Arjomand.

UNCHR will first focus on refugees living in camps in Pakistan while continuing to facilitate the return of Afghans in Pakistan's urban areas, said Arjomand. "In the current phase of repatriation our priority will be from Kacha Garhi," said Maroof.

UNHCR officials said three registration centers had been set up in Pakistan while a fourth one would be established at a crossing point just inside Afghanistan. Iris-recognition equipment was also in place to complement UNHCR's screening efforts. All refugees over the age of 12 will undergo testing to weed out those who had previously sought repatriation assistance.

Under the initiative, Afghan refugees going home receive a meager travel grant of between U.S $3 and U.S $30, depending on how far their homes were located, along with some food and other assistance provided inside Afghanistan.

UNHCR had appealed for U.S. $195 million to fund its Afghanistan program and to assist Afghan refugees. So far, it had received only U.S. $47 million, including U.S. $16 million in carry-over funds from 2002, the official added. Currently there are 1.8 million registered Afghan refugees in Pakistan residing in 200 camps across the country. The NWFP alone hosts 1.2 million of them in camps and urban and rural areas.
---
How can we manifest peace on earth if we do not include everyone (all races, all nations, all religions, both sexes) in our vision of Peace?
---
The WorldPeace Banner
The WorldPeace Insignia : Explanation
To order a WorldPeace Insignia lapel pin, go to: Order
To the John WorldPeace Galleries Page

To the WorldPeace Peace Page
al-jazeera aljazeera