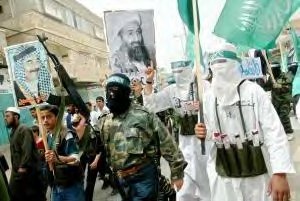 Thousands of Arabs demonstrated around the Middle East yesterday against the US-led war on Iraq, but protests appeared muted as governments struggled to contain public anger.Crowds seemed smaller than for protests in the first two weeks of the Anglo-American invasion to overthrow Iraqi President Saddam Hussein, partly due to a heavy police presence
---
Saturday 5 April 2003

Angry demonstrations held in Arab countries

CAIRO: Thousands of Arabs demonstrated around the Middle East yesterday against the US-led war on Iraq, but protests appeared muted as governments struggled to contain public anger.

Crowds seemed smaller than for protests in the first two weeks of the Anglo-American invasion to overthrow Iraqi President Saddam Hussein, partly due to a heavy police presence.

The largest was in the Jordanian capital Amman, where several thousand marched with Iraqi, Jordanian and Palestinian flags to the United Nations office.

"Oh Saddam, beloved one, burn Tel Aviv," demonstrators chanted, recalling the 1991 Gulf War when Iraq fired 39 Scud missiles at Israel.

"From Baghdad to Jenin, we are all one brave, unyielding people," the marchers cried, referring to a Palestinian West Bank refugee camp heavily damaged when Israeli troops stormed it last year.

"The striking similarity between what we saw in the past two years in Palestine at the hands of Israeli soldiers and some images of what the Americans and British are doing in Iraq makes me shudder," said Nahil Bseiso, 56, a Jordanian housewife of Palestinian origin.

"They're both occupation. I don't see a war of liberation in Iraq," Bseiso said.

In Egypt, a heavy police presence prevented a planned protest march to the US embassy in central Cairo. The Egyptian lawyers union said 60 people were detained, but police later released 17 women.

Police ringed the city's Saidah Aishah mosque, from which the demonstration was due to start, and forced worshippers to board taxis or buses and go home.

In Saudi Arabia, witnesses said police cars patrolled outside several mosques in the capital Riyadh to ensure that spontaneous sermons after prayers did not spark protests.

In Gaza City, 3,000 Palestinian supporters of the Islamic group Hamas marched in support of Iraq and Saddam. They waved Iraqi flags and held aloft posters of the Iraqi president.

Hamas founder Sheikh Ahmed Yassin urged Iraqis to use suicide bombings against US and British forces and criticised Arab leaders for what he called their passive stance on Iraq.

Hundreds of Turks burned US, British and Israeli flags in anti-war demonstrations across the country following prayers in mosques, Anatolia news agency reported.

Tens of thousands of Pakistani Muslims, most of them supporters of right-wing Islamic parties, rallied in the central city of Multan.

The crowd, responding to the call of the six-party Islamic Muttahida Majlis-e-Amal opposition Islamic alliance, chanted slogans as they marched through the streets of the city, 440km south of Islamabad.
---
How can we manifest peace on earth if we do not include everyone (all races, all nations, all religions, both sexes) in our vision of Peace?
---
The WorldPeace Banner
The WorldPeace Insignia : Explanation
To order a WorldPeace Insignia lapel pin, go to: Order
To the John WorldPeace Galleries Page

To the WorldPeace Peace Page
al-jazeera aljazeera