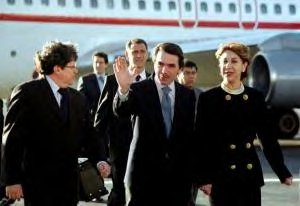 Eight years after surviving a terrorist bombing, Spanish Prime Minister Jose Maria Aznar finds himself labeled a terrorist -- a backlash against his staunch support of the US-led coalition fighting in Iraq(Getty file Images)...
---
Spain's Aznar Fears Fallout From War



By DANIEL WOOLLS




Associated Press Writer





April 11, 2003, 2:34 AM EDT





MADRID, Spain -- Eight years after surviving a terrorist bombing, Spanish Prime Minister Jose Maria Aznar finds himself labeled a terrorist -- a backlash against his staunch support of the U.S.-led coalition fighting in Iraq.

Local and regional elections are on the horizon, and protesters incensed by Aznar's backing of the drive to oust Saddam Hussein have hurled Molotov cocktails and rocks at offices of his governing Popular Party. A dozen party members have resigned.

A new fixture of sunny Spanish weekends are massive street rallies where Aznar is branded a murderer. One Basque politician called him a terrorist -- no better than the armed separatist group ETA, which tried to kill Aznar with a car bomb in 1995.

Both of Spain's top daily newspapers, El Mundo and El Pais, vehemently oppose the war and regularly run front-page photographs of wailing mourners and mutilated children.

Aznar's approval rating has dropped 10 points in three months, tumbling to 31 percent. Next year's general election, where Anzar's party was once considered a shoo-in for a third straight term in power, is hardly a sure thing.

Aznar maintains a majority in the Spanish parliament. But in February, as the Iraq crisis escalated, polls showed support for the opposition Socialists had eclipsed backing for his party for the first time since he came to power in 1996.

A survey published March 30 in El Pais indicated the Socialist support had grown, with nearly 63 percent of those polled voicing disapproval for Aznar's handling of the Iraq crisis.

Aznar has said for more than a year that he will not seek re-election. But his predecessor, Socialist Felipe Gonzalez, said it is now Aznar's duty to run.

"He has no right to pull out now, leaving this mess for those who want to succeed him," Gonzalez said in a radio interview last week.

Jose Ramon Pin, a management professor and a well-connected member of the Popular Party, said the general election is still too far off to predict the effect of the war.

But as the May 25 regional and local elections approach, "the atmosphere is one of worry," Pin said. The party's main concern is urban, first-time voters prone to anti-war fervor -- "youths who are going to vote ideologically," said Pin, now a management professor at the IESE Business School in Madrid.

More than anything, Pin said, the party is hoping the war ends quickly and neatly, with U.S. forces restoring some semblance of order and laying the groundwork for rebuilding Iraq.

"The important thing is not winning the war, it is winning the peace," Pin said. "The problem is that it is a race against time."

Aznar infuriated Spaniards by aligning his country with the United States and Britain to co-sponsor a stillborn U.N. draft resolution seeking authorization for war.

He joined President Bush and Prime Minister Tony Blair at a last-ditch summit in the Azores islands, but stopped short of putting Spanish troops in harm's way.

Instead, he chose a much-ridiculed dispatch of 900 non-combat support troops aboard three navy ships -- including one that broke down on its way to the war. Aznar doesn't get invited to the summits anymore, either.

But Aznar has continued to deliver his message: the threat of weapons of mass destruction justifies a war, and Spain cannot miss this opportunity to carve out a more prominent niche for itself on the world stage.
---
How can we manifest peace on earth if we do not include everyone (all races, all nations, all religions, both sexes) in our vision of Peace?
---
The WorldPeace Banner

The WorldPeace Insignia : Explanation
Show your desire for Peace and WorldPeace by wearing something endorsing WorldPeace. Make your own pin or badge but remember, WorldPeace is one word. Send me your WorldPeace pin designs and I will display them.

To order a WorldPeace Insignia lapel pin, go to: Order
To the John WorldPeace Galleries Page

To the WorldPeace Peace Page
al-jazeera aljazeera