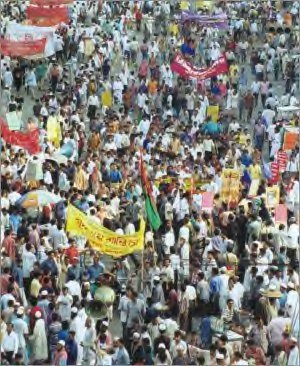 Demonstrators from different political parties take to the streets in Dhaka yesterday in a display of unity to protest the US-led invasion of Iraq. PHOTO: STAR
---
Thousands protest Iraq invasion

Staff Correspondent



As part of global protest against the war of invasion in Iraq, thousands of anti-war protesters marched various streets in the city yesterday.

Activists of different socio-cultural organisations, professional bodies, student organisations, development agencies and major political parties took part in the demonstrations separately.

Seas of people gathered in the areas of Bijoynagar, Purana Paltan, Topkhana Road, Muktangan and Bangabandhu Avenue to express their indignation and concern over the US-British invasion on Iraq.

The protestors demanded the coalition forces be withdrawn from Iraq and the trial of Bush and Blair for killing innocent people and violating human rights.

They urged countrymen to boycott Anglo-American products as part of the protest. The protestors also asked the US and Britain to follow UN resolutions.

Starting 3:00pm, small processions of different organisations began to assemble from different parts with colourful banners, placards and effigies of Bush and Blair. The demonstration ran till 6:00pm.

The placards said ' Stop Genocide in Iraq', 'No More Blood for Oil', 'We Want Peace'.

The protestors also burnt logos of CNN and BBC, two international news media, for their misleading and biased news coverage.

Bangladesh Nationalist Party (BNP) brought out a procession from its party office at Naya Paltan while Jamaat-e-Islami held a rally at the north gate of Baitul Mokarram Mosque.

Opposition Awami League held a peace rally at Bangabandhu Avenue.

Left leaning parties, Communist Party of Bangladesh, Workers' Party of Bangladesh, Socialist Party of Bangladesh, Four Left parties and Jatiya Samjtantrik Dal (JSD) demonstrated at the Paltan intersection.

Among various organisation were the Engineers' Institute of Bangladesh, Institute of Diploma Engineers, Sammilito Ainjibi Samannoy Parishad, Oikya Prochesta, Bangladesh Supreme Court Bar Association, National Press Club, Sammilito Sangskritik Jote, Development Centre International, Bangladesh Paribesh Andolon (BAPA).

Then there also were the Jatiya Gono Protirodh Andolon, Sylhet Bibhag Unnoyon Sangram Parishad, Khelafot Andolon, Ganotantrik Majdur Party, Bangladesh Krishok Sramik Mukti Andolon, Samajtantrik Chhatra Front, Chhatra Majlish, Communist Union, World People's Resitance Movement, Bangladesh Human Rights Monitoring and Development Organisation, Citizens' Society Against Imperialism-Aggression and Looting.

Activists of Tahfuz-e-Din Islam Sangstha, a pro Islamic organisation, brought out a procession with swords.

A large number of police was deployed at the different points and in front of various multinational companies and banks to avoid untoward incidents.

The areas were clogged with traffic jam for several hours as the protestors occupied the major streets in the city.
---
How can we manifest peace on earth if we do not include everyone (all races, all nations, all religions, both sexes) in our vision of Peace?
---
The WorldPeace Banner

The WorldPeace Insignia : Explanation
Show your desire for Peace and WorldPeace by wearing something endorsing WorldPeace. Make your own pin or badge but remember, WorldPeace is one word. Send me your WorldPeace pin designs and I will display them.

To order a WorldPeace Insignia lapel pin, go to: Order
To the John WorldPeace Galleries Page

To the WorldPeace Peace Page
al-jazeera aljazeera