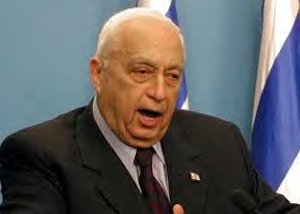 As fighting wanes in Iraq, Israeli and Palestinian leaders are positioning themselves for an expected US-led push to end 30 months of Mideast fighting that has killed thousands and whipped up anti-American sentiment across the Arab world(Getty Images)...
---
Posted on Tue, Apr. 15, 2003

Leaders Position for Mideast Peace Plan

DAN PERRY Associated Press

JERUSALEM As fighting wanes in Iraq, Israeli and Palestinian leaders are positioning themselves for an expected U.S.-led push to end 30 months of Mideast fighting that has killed thousands and whipped up anti-American sentiment across the Arab world.

Their best bet is "road map" to Palestinian statehood, a three-year plan that President Bush pledges to formally present after a reformist Palestinian Cabinet is sworn in, possibly within days.

Saddam Hussein's ouster and the expected swearing-in of Mahmoud Abbas as Palestinian premier is fortuitous for Bush. He is being pressed by ally British Prime Minister Tony Blair to implement the plan as reassurance to Arabs that Western interests in the region do not end with Iraq.

Many believe the quick toppling of Saddam's regime, following the Taliban's defeat in Afghanistan, heralds a new order in which the world community may no longer tolerate extreme policies and practices.

Israeli analyst Ephraim Inbar said the "yellow card" - a warning used in soccer before a player is sent off the field - "has been shown to radical forces in the Middle East."

He said this will "increase the caution of the Saudis in funding various Islamic organizations that might be implicated in terror." He said it also could force Syria to loosen its grip on Lebanon and eventually pressure Israelis and Palestinians into concessions.

Israelis and Palestinians differ sharply on what most urgently needs redress.

For Israelis, it is Palestinian terrorism and Arabs' rejection of Israel's right to exist. For Palestinians, it is Israel's military oppression and the occupation and settlement of their land.

The chasm may be too wide to bridge quickly, but after 30 months of recrimination and mistrust, recent days have produced stirrings of possible change.

In an interview this week, Israeli Prime Minister Ariel Sharon struck a conciliatory tone, telling the Haaretz newspaper that a Palestinian state is inevitable and that the army's takeover of West Bank towns is temporary. He also suggested that some Jewish settlements may have to go.

"I do not think we have to rule over another people and run their lives," Sharon said, adding that he saw positive change in the appointment of Abbas - who has criticized the armed uprising against Israel - to the new position of Palestinian prime minister.

Abbas submitted a list of Cabinet ministers on Sunday that includes reformers, professionals and relative moderates. The list leaves out several of Yasser Arafat's cronies - risking a political fight with the longtime Palestinian leader.

Under the reform legislation passed last month, Arafat cannot veto the ministers - but Palestinian sources said he was trying to build opposition to the list among leaders of his Fatah party, who must approve it.

Abbas' proposed list offers promise on several fronts.

It retains, for example, Salam Fayyad, the former International Monetary Fund official who, since taking over the Palestinians' finances last summer, has been praised for cleaning up corruption and accounting for monies in a way that prevents funding of militants.

It also assigns a key security position - state minister for internal affairs - to Mohammed Dahlan, a former Gaza security chief supported by Israel and the United States. Dahlan has said he believes he can curb militant groups whose seemingly independent acts have undermined past truce efforts.

The road map, which foresees Palestinian statehood as early as this year, was cobbled together in recent months by the United States, the European Union, the United Nations and Russia.

Essentially, it strikes an interim bargain whereby Palestinians end their violent uprising in exchange for a state with provisional borders. But the plan offers no clear final formula for resolving issues that ruined the previous peace effort - permanent borders, the fate of refugees and the status of Jerusalem.

Palestinian analyst Abdel Satar Qassem said he expects a U.S.-led push to end the uprising. "After the war in Iraq, (there will be) more pressure on the Palestinians to implement their commitments concerning the roadmap," he said. But he said the effort could be doomed by Israel's actions.

Israeli critics have accused Sharon, a career hawk, of misleading the world by hinting at moderate intentions while cracking down on the Palestinians and expanding Jewish settlements - a project he has championed for decades.

Skeptics saw such obfuscation even in Sharon's Haaretz interview - in which he suggested the Palestinians needed, as a first step, to renounce their demand for a "right of return" to Israel.

That demand - which Israel fears could erase the state's Jewish character - helped scuttle the last peace negotiations in early 2001.

Beyond the Israeli-Palestinian issue, the fall of Saddam also impacts Syria, a country Israel hopes will now be pressured to oust Hezbollah guerrillas armed with thousands of rockets in southern Lebanon and to expel Palestinian militant groups in Damascus.

President Bush said he believes Syria has chemical weapons, and he warned Damascus on Sunday to refuse refuge to Iraqi regime members. Syrian officials blamed Israel for the new American pressure.
---
How can we manifest peace on earth if we do not include everyone (all races, all nations, all religions, both sexes) in our vision of Peace?
---
The WorldPeace Banner

The WorldPeace Insignia : Explanation
Show your desire for Peace and WorldPeace by wearing something endorsing WorldPeace. Make your own pin or badge but remember, WorldPeace is one word. Send me your WorldPeace pin designs and I will display them.

To order a WorldPeace Insignia lapel pin, go to: Order
To the John WorldPeace Galleries Page

To the WorldPeace Peace Page
al-jazeera aljazeera