Bush's new bid to woo UN
GETHIN CHAMBERLAIN DIPLOMATIC CORRESPONDENT
GEORGE Bush yesterday issued an urgent appeal to world leaders to help stabilise the deteriorating situation in Iraq, after a day of gun battles left at least nine Iraqi policemen and two American soldiers dead.

The United States president will use a meeting of the United Nations General Assembly on 23 September to issue a fresh plea for assistance, in an admission that the US is struggling to calm an increasingly incendiary situation.

Yesterday, he told troops of the 3rd Infantry Division, newly-arrived back from Iraq, that the US needed help from its allies and warned free nations that they could not be neutral in the "fight between civilisation and chaos".

"It's time for others to join us," he said. "Terrorists in Iraq have attacked representatives of the civilised world and opposing them and defeating them must be the cause of the civilised world."

The initial plan was for Colin Powell, the US Secretary of State, to take Mr Bush's message to next week's meeting of the UN General Assembly in Geneva. But yesterday afternoon, the White House said the president himself would address the meeting.

Last year, Mr Bush used his address to the UN to argue - largely unsuccessfully - for international backing for the use of force against Iraq. This time he will ask the UN to authorise a multinational military force to help with the country's reconstruction.

He faces an uphill battle, with France, Germany and Russia, who led opposition in the five-member Security Council to the war, demanding a much more important role for the UN than that outlined in the draft US resolution.

France also wants a fast timetable to restore Iraqi sovereignty, with Dominique de Villepin, the foreign minister, calling for a provisional government to be in place within a month, a draft constitution by the end of the year, and elections next spring.

The US plan involves the creation of a multinational force under a unified UN command with a US commander. A key aim is to give countries such as Turkey, India, Pakistan and Bangladesh the UN authorisation they say they need before committing troops to Iraq.

But, in a blow to that plan, an official from the Indian defence ministry said his country could not afford to send peacekeeping troops to Iraq because of a surge in violence by Islamic militants in Kashmir.

Foreign ministers from the US, France, Russia, Britain and China meet Kofi Annan, the UN secretary general, in Geneva today to discuss the plan.

The degree to which the security situation has deteriorated was emphasised by another day of violence and bloodshed, much of it centred on the town of Fallujah, 30 miles west of Baghdad, a former stronghold for Saddam loyalists.

In the worst incident, eight Fallujah policemen and a Jordanian security guard were killed when US troops opened fire on three police vehicles as they chased a suspect's car through a checkpoint. A US patrol opened fire as the chase neared the Jordanian hospital about 1:30am on the west side of the town.

Police sergeant Asem Mohammed, 23, a who was among the nine injured, said: "We were chasing a white BMW with bandits. We turned around in front of Jordanian hospital and some American forces started shooting at us."

Members of the Jordanian armed forces guarding the hospital apparently also opened fire when the US troops began shooting, catching the Iraqi police, part of the Fallujah Protection Force, in the crossfire. "We were in between firing from all sides," added the sergeant. "We were in the middle."

Dr Dial Jumaili, who treated victims at the scene, said there were eight dead policemen. He added that two others were in a serious condition and had been taken to a nearby US base.

Two additional Iraqi policemen, four Jordanian guards and an Iraqi civilian also were injured.

Arkan Adnan Ahmed, 19, a policeman who was hit in the shoulder, said the shooting lasted about 45 minutes. The sudden appearance of one of the police vehicles, an unmarked pickup truck with a machine gun mounted on top, may have prompted the Americans to begin firing, he added. "We shouted, 'We are police. We are police.' Then we drove off the road," he said.

In a separate firefight in Ramadi, west of Fallujah, two US soldiers were killed and seven wounded.

The US military also reported another incident outside Fallujah in which a soldier was injured when a convoy of tanks and other vehicles came under fire from rebels using rocket-propelled grenades.

There was also trouble in central Baghdad last night, where Iraqi police and security guards were involved in a 45-minute gun battle with car thieves armed with automatic rifles.

Meanwhile, the UN's nuclear watchdog yesterday set Iran a 31 October deadline to prove it had no secret atomic weapons programme, prompting Tehran to threaten a "deep review" of its co-operation with the agency.

When the 35-nation board of the International Atomic Energy Agency passed a resolution setting the deadline, Iran's delegation stormed out of the closed-door meeting, and accused Washington of having new invasion plans after Iraq.
---
How can we manifest peace on earth if we do not include everyone (all races, all nations, all religions, both sexes) in our vision of Peace?
---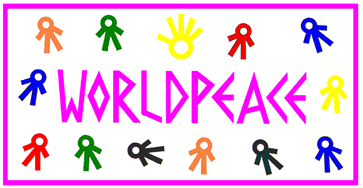 The WorldPeace Banner

The WorldPeace Insignia : Explanation

To order a WorldPeace Insignia lapel pin, go to: Order
To the John WorldPeace Galleries Page

To the WorldPeace Peace Page