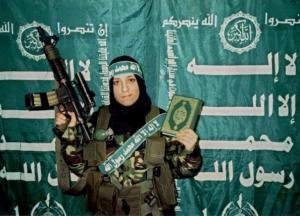 ---
Young Palestinian mother kills four Israelis

BEN LYNFIELD
IN JERUSALEM

A PALESTINIAN mother of two blew herself up at Israelís border with Gaza yesterday, killing four Israelis and wounding seven people in the first suicide attack by a woman Hamas loyalist.

The explosion, at the Erez industrial zone, near the main crossing between Gaza and Israel, came when the border was crowded with Palestinian workers and Israeli security personnel.

It was the first suicide bombing by Hamas, the Islamic Resistance Movement, since September, and was followed by vows of "escalation" from Hamas and Yasser Arafatís Fatah movement, which claimed joint responsibility. Hamas said it came as revenge for Israeli army killings of Palestinians.

In a videotape, the bomber, identified as Reem Salih al-Raishy, 22, professed her love for her children and said the attack was meant to turn her body into "deadly shrapnel".

Smiling at times and cradling a rifle, Raishy said she had dreamed since she was 13 of "becoming a martyr" and dying for her people.

A successful student from a middle-class merchant family and an activist in Hamas womenís groups, Raishy said: "It was always my wish to turn my body into deadly shrapnel against the Zionists and to knock on the doors of heaven with the skulls of Zionists." Raishy, who was wearing fatigues and a Hamas sash in the video, left behind a daughter aged 18 months and a son aged three. "God gave me two children and I loved them so much. Only God knew how much I loved them," she said in the video, asking that her children study in religious schools.

The bomber apparently convinced Palestinian police she was ill and was allowed to go to the Israeli side for a check-up.

An Israeli guard, Ruslan Shomilin, who was wounded in the legs by the blast, said he had scrutinised her as she passed through a metal detector.

"She went through the first time and the alarm sounded. I told her to go through it again. The third time she shouted out that she had a metal plate in her leg.

"As is our procedure in cases where people say they have medical problems, we decided to let her pass and to have a woman guard search her separately." She was asked to go to a small adjoining building.

"She began to limp and even was assisted by another Palestinian woman. After several seconds I heard a boom and flew forward. The ceiling was falling on me," Mr Shomilin said.

An Israeli paramedic, Boris Shor, said: "The terminal was totally destroyed. Everything was shattered, glass was everywhere, body parts were spread out. It was a very difficult sight.

"We pronounced three people dead on the spot. We tried to resuscitate a fourth person, but we had to pronounce him dead also."

The army said the dead included soldiers and at least one civilian. Four Palestinians were among the wounded.

Moments before the explosion, a Palestinian woman labourer offered the limping bomber a helping hand.

Raishy "looked at her, thanked her and told her to back off", a witness said.

Outside the bomberís home in Gaza City, her husband of five years sat crying after the attack. A relative said the family had not known of her plans.

Hamasís spiritual leader, Ahmed Yassin, said: "As long as there is occupation, it is inevitable that there will be ongoing resistance, but here you will notice that for the first time the units implemented the operation using a woman fighter. And this is a new challenge and a new development in the resistance."

Fatah and Islamic Jihad have used women suicide bombers before, but Hamas had been reluctant to do so. It was apparently swayed by difficulties in getting its men through the security checks.

Mr Yassin said: "Holy war is an obligation of all Moslems, men and women."

The attack deals a further blow to remote prospects for reviving peace negotiations. Hamas and Fatah have been unable to agree on stopping attacks against Israeli targets, leaving the Palestinian prime minister, Ahmed Qurie, with no leverage to enter into talks with the Israeli prime minister, Ariel Sharon. Mr Qurie has shunned Mr Sharonís repeated invitations to meet.

Israeli officials pinned the blame for the blast on the Palestinian leader, Yasser Arafat, and again called for his expulsion. Mr Qurie refrained from condemning the attack and blamed Israel, saying its restrictions and attacks on Palestinians are the main cause for "escalation on both sides".

It was the first attack since a bombing on Christmas Day near a bus stop in Tel Aviv killed four people.
---
How can we manifest peace on earth if we do not include everyone (all races, all nations, all religions, both sexes) in our vision of Peace?
---
The WorldPeace Banner


The WorldPeace Insignia : Explanation

To order a WorldPeace Insignia lapel pin, go to: Order
To the John WorldPeace Galleries Page

To the WorldPeace Peace Page