DEPOSITION OF JOHN WOLRDPEACE
DATED FEBRUARY 25, 2003
REGARDING: BILL HEARD CHEVROLET V. JOHN WORLDPACE
Q. = Mark Sanders, Attorney at Law for Bill Heard Chevrolet
A. = John WorldPeace, Attorney at Law Pro Se
Q Okay. So you write in this ďTimes are hard in the new car business. Have no fear. I really do not want to kill the goose that lays the rotten eggs.Ē
A Where is that?
Q Thatís the last paragraph.
A Well, you know, you need to go to my web page and you need to read 2500 poems, essays, commentary on the news, commentary on religion.
Q I have been to your web page.
A Well, you havenít read it very well if you donít understand that. It is just a twist on a nursery rhyme. It isó
Q I canít get beyond Ariel Sharonís picture next to Adolph Hitler. As a Jew, I find that extremely offensive, Mr. WorldPeace.
A Well, so that is what this all about. So thatís the source of your maliciousness then, correct, is my political views?
So now we have the truth. Thank you. We know what this is about. This a prosecution of me because of whatís on the web page and it has nothing to do with Landmark Chevrolet or Bill Heard either. Right, Mr. Sanders?
Q Wrong, Absolutely wrong.
A Well, you said it.
Q I understand the nursery rhyme.
A It is not solicited either.
Q I understand the nursery rhyme.
My question is this: Is it your intention by writing this to try to go back to the arrangement or try to lay the groundwork, roll out the mat, send out the overture or resurrect, to use the religious analogy, the idea of bringing your clientsó
A You donít believe in resurrection, though, as a Jew, I think, if you want to Ė since you brought that up.
---
How can we manifest peace on earth if we do not include everyone (all races, all nations, all religions, both sexes) in our vision of Peace?
---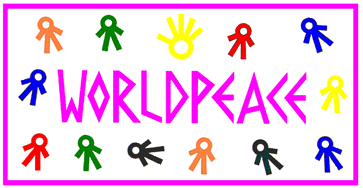 The WorldPeace Banner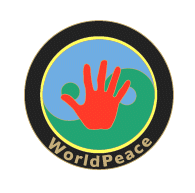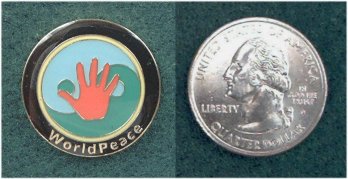 The WorldPeace Insignia : Explanation

To order a WorldPeace Insignia lapel pin, go to: Order
To the John WorldPeace Galleries Page

To the WorldPeace Peace Page