THE COMPLAINANTS
Johnell Collins - Collins hired an attorney to retrieve her Semi tractor and trailer from her ex boy friend. The attorney screwed up the case. WorldPeace charged her $2,500 to undo the prior attorneys mess and a contingency LINK on the suit. WorldPeace won the suit. Collins got her title back and her $1,750 weekly income stream and then refused to pay WorldPeace his $10,000 fee. Collins filed a grievance to stop WorldPeace from collecting his fee. WorldPeace sued Collins. This grievance is a part of the underlying trial.

Helene Fraser-Nash - She and her husband paid WorldPeace $500 to stop an August foreclosure on their house. They testified that they admitted that WorldPeace told them that the mortgage company could not foreclose because they had not met the notice deadlines per the law. They understood but hired WorldPeace anyway. The foreclosure never happened but they filed a grievance saying WorldPeace could not prove that he did anything to stop the foreclosure. There were two one hour appointments in WorldPeace's office which they admitted at trial. This grievance is a part of the underlying trial.
John Lang - WorldPeace took on a old case that Lang's attorney friend had sat on for over two years. The suit was to enforce a now defunct statute regarding storage lots collecting fees from insurance companies. Lang paid WorldPeace $930. WorldPeace investigated the law and facts and found that the three car owners had settled with the insurance companies and in the settlement papers agreed to take responsibility for the storage fees. LINK Lang admitted that WorldPeace called him and told him that WorldPeace would not file suit unless Lang allowed WorldPeace to sue the car owners. Lang refused and said he only wanted to sue the insurance companies. WorldPeace closed his file.
Lang said WorldPeace did nothing to earn his fees and filed a grievance. WorldPeace filed a counterclaim in the disciplinary petition and Judge Fry severed it out. So WorldPeace was not allowed to sue Lang in the disciplinary lawsuit for WorldPeace's fees when the underlying transaction was the basis of the Commission's claim and WorldPeace's counterclaim. This grievance is a part of the underlying trial.

John Lynch - Paid WorldPeace $100 for an initial interview then tried to say that he had a contract with WorldPeace to represent him. The jury poured out this complaint. This grievance is a part of the underlying trial.

Penny-Jo Reilly (Apodaca) - Actually Penny was the evil presence driving Philip Apodaca, WorldPeace's client. WorldPeace divorced Apodaca but did not put a residential restriction in the decree. Apodaca then hired WorldPeace to stop his wife from going to Atlanta with his son. WorldPeace got Temporary Orders and stopped the wife from leaving after a three hour hearing. Then Apodaca told the ex-wife that she could go and there was another three hour hearing and the ex-wife still did not leave.
Apodaca did not go to drug therapy as ordered by Judge Rynd and did not go to family counseling. When it came time for trial, Apodaca told WorldPeace he was still on dope and could not pass a drug test. WorldPeace suggested that Apodaca let his wife go to Alabama and not take a chance on the judge's wrath if he ordered a drug test. Judge Rynd had ordered a drug test at the first hearing. Apodaca agreed not to attend trial. Apodaca did not care if his son went to Atlanta or not. It was his mother and father who wanted to fight.
The day after trial Apodaca called WorldPeace and wanted to go to trial and said that he had not agreed not to go to trial. Apodaca's parents were mad that the child was leaving the state. WorldPeace agreed to file a motion for new trial. Apodaca refused WorldPeace's offer and picked up his file.
In the end, with another attorney, Apodaca agreed in mediation to allow the ex-wife to go to Atlanta. A month later the ex-wife decided not to go to Atlanta. Apodaca admitted at trial that he had only paid WorldPeace about $1,000 of a $3,000 fee. Judge Fry severed WorldPeace compulsory counterclaim for his fees from the TDRPC violations. This grievance is a part of the underlying trial.

Darlene Williams - was having an affair with a married man who gave her a usurious promissory note for $10,000. Williams paid WorldPeace $450. WorldPeace wrote several letters to the ex-lover and researched the case and told Williams she had no case because the note was over twice the usurious rate and she had no right to the interest or the principle.
WorldPeace was disbarred for not filing a groundless lawsuit. This grievance is a part of the underlying trial.

Harry Bowles - One of the Republic of Texas boys. WorldPeace did not know this at the time he was retained. He also did not know that two courts had declared Mr. Bowles a vexatious litigant. Bowles paid WorldPeace $5,000 to try to salvage a very old partnership breakup case. WorldPeace earned his $5,000. Bowles took over the case by filing pleadings while WorldPeace was the attorney of record. WorldPeace terminated the relationship.
Bowles filed a grievance but did not show up at the investigatory hearing. WorldPeace refused a private reprimand. The case is on hold.
Joe Shields - Joe is one of those don't send me a fax litigants. If you fax him, he will sue you. WorldPeace represented one of Joe's victims with regards to an automated telephone call Joe allegedly received. Joe was pro se at trial but won and WorldPeace appealed. (This issue was what proof is necessary to show you actually received a phone call.)
Joe has been into court twice to try to find the Defendant in contempt of the court's order and has lost twice to WorldPeace.
Joe filed a grievance on WorldPeace for WorldPeace faxing to Joe at a fax number he put on his pleadings in the lawsuit. No joke. Mr. Mapes processed the grievance. The case is on hold.

Robert Braver and Russell Wheeler - These are Oklahoma residents who like Shields above sue everyone who contacts them by automated telephone callers. WorldPeace went to Oklahoma pro bono to help four people that had been sued by these two guys. Wheeler is an attorney. These guys filed a grievance against WorldPeace in Oklahoma that was thrown out. They filed one here that Mr. Mapes processed it and sent to Alan Levine's committee. Braver did not show up. Braver was sanctioned in three of the four lawsuits for filing frivolous and groundless lawsuits against the people WorldPeace was helping. This case is on hold.

Bill Heard Chevrolet and Landmark Chevrolet - WorldPeace has been suing these people for about 14 years for their bad acts and DTPA violations. There is a live case in the 270th right now with five plaintiffs. LINK Mark Sanders is the attorney. Sanders sued WorldPeace personally in two suits, one by Landmark and one by Bill Heard for his actions relating to the underlying lawsuits WorldPeace filed for his clients against Bill Heard and Landmark. LINK A few months ago, Landmark and Bill Heard paid WorldPeace $13,000 to settle the case where they were the Plaintiffs and WorldPeace was the Defendant and WorldPeace had filed no counterclaims. That is right. The Plaintiffs paid the Defendant WorldPeace $13,000.
In the meantime, in order to gain an advantage in the lawsuits, Sanders paid D Craig Landin a municipal judge in Fort Bend County, to file a grievance on WorldPeace. Mr. Mapes processed the grievance and assigned it to Mr. Levine. The case is on hold.
Walter Ellis, supported by Roy Keezel, attorney at law - This is a recent grievance. Roy Keezel was the defense attorney in the underlying Collins v. Arbuckle lawsuit on which Collins filed her grievance above. Keezel is an elder in the Presbyterian Church just like Judge Fry. Keezel is ON an Administrative Committee that was assigned to take over WorldPeace's mother's church as a result of the lawsuit filed by WorldPeace against the minister and others on behalf of his mother. WorldPeace's mother; Joyce Wolter, has been a member of Heights Presbyterian Church for sixty-two years and is a trustee and elder.
Walter Ellis, one of the defendants in the Wolter v. Delgatto lawsuit, in order to manipulate that lawsuit was influenced by Roy Keezel to file a grievance on WorldPeace. Mr. Mapes' successor Dee Yett, another non attorney, processed the grievance. The case is on hold.
Donald Bailey, Jim Cooper, attorney at law, and Stacy Williams, attorney at law - LINK This is another grievance that has been filed by another low rent client in collusion with two associated attorneys who opposed me in two lawsuits. The Complainant is Donald "Donny" Bailey, a man who has made his living buying and selling cars on the side for a number of years. His wife wanted a divorce and she was represented by Jim Cooper, attorney at law. (Cause Number: 2002-22790, In the Matter of the Marriage of Pamela K. Bailey and Donald E. Bailey and in the interest of Blake Joseph Bailey, a child, 309th District Court, Harris County, Texas ) I could have settled the case for $25,000 because all there was to argue about was division of the community assets. Donny was indecisive and we went to trial and he was nailed for about $75,000. As it turns out this was not half of the community estate but one fourth. Donny went behind my back and settled the case with Jim Cooper directly and tried to not pay me. I sued Donny for my fees. (Cause Number: CV-12-C-0029206; John WorldPeace v. Donald Bailey; Justice Court, Precinct 1, Position 2, Harris County, Texas)
I have another lawsuit in which Stacy Williams, attorney at law, an associate of Jim Cooper is the opposing attorney. (Cause No. 2003-16697; Saied Khobaisy, et. al. v. Barrie Jackson, et. al., 55th District Court, Harris County, Texas ) This case is about a $1.2 million piece of property in which Stacy screwed up the attempted foreclosure and made other mistakes which has tied the property up for the next five or six years. Stacy and Jim got a summary judgment in that case by not noticing me of the hearing date. I filed a Motion for New Trial and got it.
Now here is the punch line. Jim Cooper is now representing Donny Bailey in my lawsuit against Donny for my fees. And like most attorneys who cannot hold their own in a legal battle, they wrote up a grievance for Donny, who is borderline illiterate. LINK
---
How can we manifest peace on earth if we do not include everyone (all races, all nations, all religions, both sexes) in our vision of Peace?
---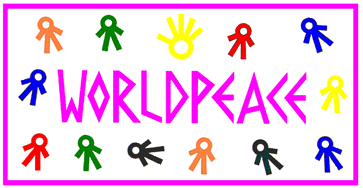 The WorldPeace Banner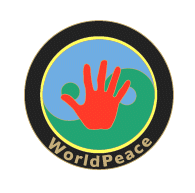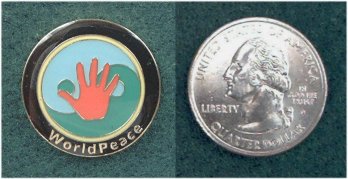 The WorldPeace Insignia : Explanation

To order a WorldPeace Insignia lapel pin, go to: Order
To the John WorldPeace Galleries Page

To the WorldPeace Peace Page