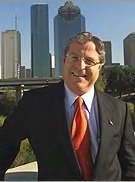 Little Tony Sanchez
"King of the Texas Democratic 'Dream Team' Nightmare"
---
It is still early but it looks like the "dream team" is going to end in a nightmare.
The latest polls seem to show that all the Democratic Hispanic rah rah was just what I always said it was; Nothing. Sanchez has a lot of money and I quite frankly thought that he would spend about $70 million with a major ad blast in the last month to buy the governor's office. But if the estimate by the press is now $80 million then I am going to have to revise my estimate up to $100 million. What is a hundred million when you have $2 billion.
The election is still going to come down to race as in skin color. It is still going to be the same old song with the white voters and their greater motivation who are going to decide the election. And they are going to vote white as in not Sanchez and not Kirk. Unfortunately, there are no Hispanic or Black governors or U S senators in the United States of America. So goes the U S A, so goes Texas.
The Hispanics have always voted half and half Democratic and Republican and that is really not going to change much. There are many Hispanic who consider themselves white and Republican and will never vote Democratic even if Sanchez is running for governor.
In addition, the Republicans will start airing the dirty laundry on Sanchez in the last month of the election. If Bush continues to remain strong on kicking Saddam's butt, then the Republicans are going to hammer Sanchez for his Vietnam era draft dodging. The vets are a strong voting block and the public in general does not want a yellow bellied Vietnam Era draft dodger in the governor's mansion in these terroristic times.
I still say that old Phil Gramm would not have left the Senate if he thought that a Democrat could win. And so you can bet he will flame Kirk in the last weeks before November.
But more importantly is the fact that Gramm announced his retirement just two hours after Sanchez announced for governor and stole all the press from Sanchez for the following two weeks. What this showed me was that there is a lot of contempt for Sanchez in the Republican Party. And they are going to get some payback.
Old Tony was a long time Republican and in the last weeks his old buddies are going to open Tony's can of worms and feed it to the electorate. Bye Bye Tony Sanchez.
Well there is still 47 days until the voting and I have no doubt the Democrats have a strategy for winning. But right now, after two years of half hearted campaigning, Tony Sanchez and the Democrats are still running second and last.
Oh yes. When the debates take place, it is going to be interesting to see if they show Sanchez 5' 2" in pumps stature. All Perry will have to do is walk over and shake Little Tony's hand on camera and when Texans see the little man looking up to Rick Perry, the governor's race will be over. In the end, it will come down to Tony is a little man, Tony is a Hispanic and Tony is a Vietnam era draft dodger. Bye Bye Tony.
The real question for me is whether the Democrats will ever be able to awaken from their nightmare dream team after November? I doubt it.

John WorldPeace
September 19, 2002
---
Sept. 18, 2002, 9:38PM
Hispanic voters cool so far to 'dream team'
By LORI RODRIGUEZ
Copyright 2002 Houston ChronicleMinority Affairs Writer
The black and Hispanic coalition that Democrats hope will vault their "dream team" into the state's top slots so far has failed to coalesce, largely because of anemic Hispanic interest.
According to a statewide poll commissioned by the Houston Chronicle and KHOU-TV Channel 11, African-American voters are ardently backing Ron Kirk's tight race for the U.S. Senate as expected.
But while reliably Democratic black voters also are lining up behind gubernatorial candidate Tony Sanchez, the Laredo millionaire's historic bid hasn't yet ignited Hispanic voters for Kirk.
"The most worrisome thing in the survey for Sanchez is the low level of interest Hispanic voters expressed," said political scientist Richard Murray, director of the University of Houston Center for Public Policy.
"It's a historic race in the sense that a seventh-generation, Mexican-American Texan is running for governor, and Hispanic interest in the race is still way below Anglo interest."
According to the poll, 54 percent of Hispanic voters are at least somewhat interested in the governor's race. But the comparable interest level among Anglos is 76 percent and among blacks is 59 percent.
Kirk, the former mayor of Dallas who would be the first black U.S. senator from Texas, is raking in 62 percent of the African-American vote, a number pollsters expected to hit more than 90 percent by November.
Blacks are breaking for Sanchez by 69 percent.
Hispanic voters, however, are not reciprocating, giving Kirk only 35 percent of their votes and their fellow Latino, Sanchez, 64 percent.
"Black voters are going to go Democratic. They'll be voting straight-ticket. They're a highly disciplined and mobilized group across the state," said Rice University political scientist Bob Stein, who conducted the survey with Murray.
"What Hispanic voters are doing is what black voters did 20 years ago. They either didn't know if they were going to vote or they didn't know who to vote for."
Nearly one of every four Hispanic registered voters polled said they did not plan to vote in the Senate race between Kirk and the Republican John Cornyn. Another 16 percent said they didn't know whom they would vote for.
In Sanchez's bid against Republican Gov. Rick Perry, only about 7 percent of Hispanics didn't know who they would vote for and only 2 percent planned to vote for neither candidate.
The much-touted "dream team" was forged by Democratic Party leaders in hopes that multimillionaire Sanchez could financially fuel a statewide effort to push Hispanics to the polls in record numbers; they usually are only 12 percent of the Texas electorate.
Kirk would rally the black troops, who can be counted on to close ranks when necessary, and former state Comptroller John Sharp would pull in Anglo centrists with his run for lieutenant governor.
That plan, aimed at ending the GOP's recent dominance of the state's top electoral tier, so far is primarily boosting Sharp.
Sharp is pulling in more than one of every four white voters, but, more crucially, 66 percent of blacks voters and 46 percent of Hispanic voters also are backing him over Republican David Dewhurst.
Democrats historically get 75 percent of the Texas Hispanic vote, Murray said.
"Kirk has got to get 40 more percent of the Hispanic vote just to get it up to normal, leaving aside that there's supposed to be a black-brown coalition in this election."
"At the end of the day, Kirk's going to certainly win the large majority of Hispanic vote. But he needs at least the usual 75 percent, and he's clearly not there yet."
---
Sept. 19, 2002, 12:59AM
Poll: Perry 9 points over Sanchez
Three other statewide races seen as closer
By JOHN WILLIAMS
Copyright 2002 Houston Chronicle Political Writer
Republican Gov. Rick Perry holds a nine-point lead over Democratic challenger Tony Sanchez in the state's highest-octane, highest-dollar race this fall, according to a new poll for the Houston Chronicle and KHOU-TV Channel 11.
Unless Perry stumbles, pollsters said, he has a good chance to retain the seat he ascended to as lieutenant governor after former Gov. George W. Bush was elected president.
But with the Nov. 5 election 47 days away, other Republicans are in closer races as the party tries to maintain its monopoly on statewide offices.
The polling indicates close contests for three other high-visibility races in the state, including:
· U.S. Senate, where Republican John Cornyn holds a six-point lead over Democrat Ron Kirk for the seat Republican Phil Gramm is vacating.
· Lieutenant governor, where Republican David Dewhurst holds a six-point lead over Democrat John Sharp for the seat often considered the state's most powerful elective office. Incumbent appointee Bill Ratliff did not seek election to the post.
· Attorney general, where Democrat Kirk Watson and Republican Greg Abbott are statistically tied for the post Cornyn is vacating
"The governor's race is Perry's to lose, but that race will get closer come Election Day," said pollster Richard Murray, a political science professor at the University of Houston. "The others are real horse races."
The telephone poll of 879 likely voters across Texas was conducted Sept. 3-10 and Sept. 12-15 by the University of Houston Center for Public Policy and the Rice University School of Social Sciences. The poll has a margin of error of plus or minus 3.3 percentage points.
In the governor's race, polling indicates that Perry benefited from a strategic decision to mount a television campaign ahead of Labor Day, before voters' attention became muddled with other political messages. Sanchez, a multimillionaire Laredo oilman and banker, won a high-profile primary against former state Attorney General Dan Morales, and has been airing television ads for months.
Political sources have estimated that Sanchez and Perry could spend as much as $100 million combined, which would break the 1990 record of $53.4 million for a Texas governor's race, even adjusted for inflation.
Sanchez, who already has spent at least $30 million blitzing airwaves for the primary and in the general election campaign, may reach $80 million.
Rather than follow conventional political wisdom by airing commercials after Labor Day, Perry flooded media markets in July and August with a commercial linking Sanchez to a money-laundering scandal.
The add, with grainy footage of men carrying suitcases, focuses on $25 million in drug money that was laundered through the now-defunct Sanchez-owned Tesoro Savings and Loan of Laredo, and how the thrift wired $9 million to Panama as the Internal Revenue Service closed in on the money-laundering scheme.
Sanchez responded with advertising calling the ad "Perry's lies." He said he and other bank officials had no idea the money was drug money and that the thrift was legally obligated to send the money to a Panamanian bank when the depositor requested it. No criminal charges were filed against Sanchez, the savings and loan or any bank employees.
Murray said the Perry commercial likely is a major reason that 23 percent of poll respondents reported negative impressions of Sanchez, who is a political newcomer with no track record.
Perry has negative ratings of 17 percent after having served as governor, lieutenant governor, agriculture commissioner and state representative.
"That shot by the Perry campaign was money well spent," Murray said.
"Perry can't afford to make mistakes," said pollster Bob Stein, a political science professor at Rice University.
Sanchez, meanwhile, must do better at generating interest among Hispanic voters.
Although Sanchez, a Mexican-American, would be the state's first Hispanic governor, polling indicates 44 percent of Hispanics have little interest in the governor's race. In comparison, 23 percent of whites have little interest and 37 percent of blacks have little interest.
Perry campaign spokesman Ray Sullivan criticized the poll, which he said underestimates the turnout of Republican voters. He said the governor has double-digit leads in other independent polling.
Sanchez spokeswoman Michelle Kucera said the poll indicates Sanchez is gaining steam as Election Day approaches. Internal Sanchez polling shows Perry with a smaller margin, she said.
In the Senate race, Kirk faces a problem with a major issue, the pollsters said.
The poll shows that 53 percent of Texans support sending U.S. ground troops to the Persian Gulf in an attempt to remove Saddam Hussein from power in Iraq.
A similar percentage of Cornyn supporters support such action, but 52 percent of Kirk supporters oppose it.
While Kirk himself has voiced support for ousting Saddam, Cornyn has suggested Kirk is soft on national security.
Kirk drew unwanted attention on the issue over the past week, when he suggested Cornyn is more comfortable with the idea of military action against Iraq because minority soldiers would do a disproportionate amount of the fighting.
Kirk, the former mayor of Dallas, is black. Cornyn is white.
Kirk since said that he regrets making the comment and supports President Bush's efforts in Iraq.
Cornyn has attempted to position himself as the candidate who will support President Bush in the Senate.
Of those polled, 71 percent said they approve of the job Bush is doing as president.
Murray said he expects the gap between Cornyn and Kirk to close in the coming weeks as blacks and Hispanics focus on the race.
The polling indicates that Kirk has 62 percent of the support of blacks. But that number will get closer to 95 percent by Election Day, he said.
Meanwhile, almost 50 percent of Hispanics are undecided. But among those who have decided, Kirk holds a 2-1 margin.
Murray said the story in the lieutenant governor's race is that Dewhurst doesn't have a bigger lead after outspending Sharp about $11 million to $1.2 million.
Sharp spokesman Kelly Fero described Dewhurst's standing in the poll as "pitiful" in view of his heavy spending relative to Sharp.
In recent weeks, Dewhurst has flooded markets with a commercial showing a sneering Sharp and attacking him as a liberal.
As Sharp starts to roll out his commercials, the gap should close, Murray said.
Sharp is a former state comptroller who also has served as a state railroad commissioner, senator and representative. Dewhurst, a former Houston businessman, is in his first term as state land commissioner.
Polling indicates that 14 percent of likely voters have negative feelings toward Sharp compared with 11 percent toward Dewhurst.
"Dewhurst isn't getting a lot of bang for his buck," Murray said.
Dewhurst spokesman Nick Voinis said Dewhurst has consistently led in internal and independent polling, and expects to win the race.
The lieutenant governor presides over the state Senate and exercises great control over movement of legislation.
The incumbent Republican Ratliff is a state senator who was appointed by his peers in that chamber after Perry rose to governor. Ratliff is running for re-election to the Senate, opting not to seek election as lieutenant governor.
The poll indicates that the race for attorney general is falling below the radar screen of many voters. Not only have the three other races captured their attention, they are gobbling up campaign contributions that might help Abbott and Watson raise their profiles.
---
How can we manifest peace on earth if we do not include everyone (all races, all nations, all religions, both sexes) in our vision of Peace?
---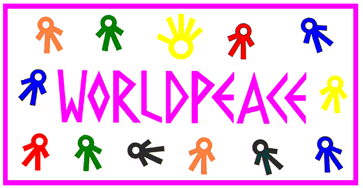 The WorldPeace Banner
To the John WorldPeace Galleries Page

To the WorldPeace Peace Page