Sanchez tries to buy governor's office but the race is about race and no amount of money is going to elect a Hispanic governor of Texas
John WorldPeace
October 8, 2002
---
Sanchez spending soars

He and Perry total a state record $74 million; Democrat could make national history, too

10/08/2002

By WAYNE SLATER and PETE SLOVER / The Dallas Morning News

AUSTIN – Democrat Tony Sanchez has spent nearly $58 million in a record-shattering bid for governor, assuring the most expensive race in Texas history at a pace likely to break $100 million by Election Day.

Fueled by his own deep pockets, the Laredo businessman is en route to spending more of his own money than any other political candidate in U.S. history.

"It is truly extraordinary," said Cal Jillson, a political scientist at Southern Methodist University.

According to finance reports filed Monday, Mr. Sanchez spent more than $26 million over the last three months – more than twice the $10.5 million spent by Republican Gov. Rick Perry.

Much of the money went to sustain a flurry of largely negative TV commercials. Both men combined have spent more than $74 million on the race.

The Perry campaign accused its Democratic rival, an oil and banking millionaire, of attempting the buy the race.

"Mr. Sanchez spent more in 88 days than any candidate for governor has ever spent during an entire election cycle," said Perry campaign manager Deirdre Delisi.

"Sanchez's shockingly false and negative campaign spent $26 million in less than three months – $295,000 per day; $12,310 per hour; $205 per minute – mostly on false, negative television and mail attacks.

"Let's hope Mr. Sanchez and his free-spending team never get their hands on taxpayer dollars or the $114 billion state budget."

Sanchez campaign spokesman Mark Sanders defended their candidate's spending, saying, "Tony is committed to spending what it takes to change this government so we can fix this insurance crisis and reform the way we educate our kids."

Details on reports

While Perry aides delivered his campaign's tallies to reporters in a way that allowed it to be easily analyzed, the Sanchez camp filed its report in a format that obscured the details of its spending. Sanchez officials blamed the situation on computer problems.

Other statewide candidates required by law to file Monday produced reports that could be analyzed in detail by the public. There are no limits on spending or donations for state candidates in Texas.

According to the Sanchez campaign, he raised $1 million from individual contributors and put $22 million of his own money into the campaign during the last three months – bringing to $50 million the total he has spent from his own pocket.

Mr. Perry raised $4 million from contributors during the period – raising to nearly $10 million the amount he has collected so far to win election to the office he assumed when George W. Bush was elected president.

Mr. Perry's largest single contribution was $500,000 from the Republican National State Elections Committee in Washington.

The Perry campaign reported $7 million on hand going into the campaign's final month.

Getting his name out

Mr. Sanchez, who is making his first bid for public office, was largely unknown when he launched his gubernatorial bid. The most recent polls indicate that he has closed the gap but still trails Mr. Perry.

Mr. Jillson of SMU said Mr. Sanchez's relative anonymity required that he put large sums of his personal wealth into the campaign to build name identification.

"Lots of people ride their personal wealth to high office," Mr. Jillson said. "In this case, it was the only way to get where he needed to go because he was a private citizen, having never run for public office before, unknown to the voting public of Texas.

"What he's done is go from 30 points behind six months ago to a high single-digits behind today. And so, that's $57 million well-spent from his perspective."

The previous overall spending record in a Texas governor's race was $53 million, set in 1990 when Democrat Ann Richards beat Republican Clayton Williams. In that race, Mr. Williams spent $8 million of his own money.

In other big-spending campaigns, John Corzine spent more than $60 million from his own pocket to win a U.S. Senate seat in New Jersey. And Michael Bloomberg spent some $70 million of his own money to be elected mayor of New York.

The most expense gubernatorial race in the nation was the 1998 California campaign, in which total spending was $118 million.

An analysis of Mr. Perry's contributions indicated that 39 donors had contributed $25,000 or more to his campaign.

They included $50,000 donations from Kenny Troutt, founder of Excel Communications in Dallas; Larry Anders, chairman of Summit Alliance Companies in Dallas; Larry Vollman, vice president of Vignette software company in Austin; and J.L "Sonny" Williams of the Minyard Food Stores in Dallas.

Mr. Perry, who earlier had accepted $10,000 from the scandal-tarnished company WorldCom, gave the money to Downtown Triangle Community Development, a nonprofit company that does after-school programs for children.

Here is a look at other races:

• For lieutenant governor, Democrat John Sharp raised about $1.73 million during the period for a total of $7.1 million to date. He spent $4.6 million, mostly on commercials.

His Republican opponent, Land Commissioner David Dewhurst, reported expenditures of $6.68 million for the three-month period. His contributions were $2.7 million, of which $1.9 million came from Mr. Dewhurst himself. The campaign reported a loan of $4.4 million from banks.

• For attorney general, Republican Greg Abbott raised more than $1.5 million and spent $916,005. Democrat Kirk Watson reported spending $1.7 million and raising $1.3 million.

• Republican Comptroller Carole Keeton Rylander raised $557,424 in the reporting period and spent $267,656. Her Democratic rival, Marty Akins, reported raising about $289,000 for the period and spending about $186,000.

The Associated Press contributed to this report.

E-mail wslater@dallasnews.com and pslover@dallasnews.com
---
Oct. 7, 2002, 10:55PM

Sanchez, Perry break the bank
By R.G. RATCLIFFE
Copyright 2002 Houston Chronicle Austin Bureau
AUSTIN -- Spending in the Texas governor's race has reached a record $73.8 million, thanks largely to Democratic millionaire Tony Sanchez's own checkbook, according to campaign finance reports released Monday.
During the 88 days between July 1 and Sept. 26, Sanchez and Republican incumbent Rick Perry spent money at a rate of $17,376 an hour -- mostly on television advertising.
"It's a nice time to be a political consultant or own a media outlet," said University of Houston political scientist Richard Murray.
Murray said the governor's race may lead Texas political campaigns into spending as much as $200 million this year, including the tight race for U.S. Senate. Races for federal offices were not included in campaign finance reports filed Monday with the Texas Ethics Commission.
The previous record for spending in a Texas governor's race was the $53.4 million spent by seven Democratic and Republican candidates in 1990. In 2002 dollars, that amount comes to $74.4 million. The combined spending by Sanchez and Perry is just $600,000 short of hitting that mark.
The real driving factor is Sanchez's personal wealth.
While Perry raised $4 million and spent $10.5 million during the period, Sanchez spent $26.2 million.
That brings Perry's total reported spending to $16.3 million. Sanchez has spent $57.5 million.
Sanchez and his family donated $20.9 million directly to the campaign. He guaranteed another $4.5 million in loans.
Sanchez's total personal spending in the race is $53.2 million.
Sanchez made his money in oil and gas, banking and investments. Estimates of his wealth range from $300 million to $650 million.
Perry campaign manager Deirdre Delisi said Sanchez has run a wasteful campaign, spending excessive money "mostly on false, negative television and mail attacks." She said the campaign shows what Sanchez might do with the state budget.
"Let's hope Mr. Sanchez and his free-spending team never get their hands on taxpayer dollars or the $114 billion state budget," Delisi said.
Sanchez spokesman Mark Sanders said Sanchez's spending shows his commitment to winning so he can solve the homeowners insurance crisis and improve public schools.
"It is Rick Perry who has sold out by taking millions and millions and millions of dollars from the special interests, particularly the insurance industry," Sanders said.
While Sanchez is mostly self-financing his campaign, Perry is raising money through traditional Republican channels.
The national party, through its Republican National State Committee, donated $500,000 to Perry's campaign during the reporting period.
All but one of Perry's top individual donors during this period, giving $50,000 each to his campaign, were from Dallas. They were:
Larry Anders, chief executive officer of Summit Alliance; former Dallas Mavericks owner Donald Carter; investor Harold Simmons; telecommunications executive Kenny Troutt; J. Williams; and Charles Wood. Williams' and Wood's businesses could not be determined Monday.
Michael Vollman, a former vice president of Vignette of Austin, also donated $50,000 to Perry during the most recent reporting period.
Sanchez had two major donors other than himself: Texarkana convenience store chain owner Truman Arnold donated $250,000. The public employees union, AFSCME, donated $100,0000.
Murray said Perry's campaign made an effort to keep up with Sanchez's spending during July, August and September, but "it's not an endless well."
Perry reported that he still had $7 million in the bank at the close of business Sept. 26.
The governor has been leading Sanchez in most public opinion polls. But Murray said Sanchez's ability to outspend Perry plus the emergence of skyrocketing homeowners insurance costs give Sanchez a chance to close the gap on Perry.
"No incumbent likes a real issue to emerge," Murray said. "It could be a close race at the end."
In the race for lieutenant governor, Democrat John Sharp raised $1.7 million during the reporting period, bringing his total for the campaign to $6.5 million. He spent $4.6 million, mostly on campaign commercials.
Republican David Dewhurst donated $1.9 million to his campaign during this period. Dewhurst also added another $4.4 million in loans from Compass Bank, bringing the total of his campaign loans to $10 million. Dewhurst reported expenditures of $6.68 million for the three-month period
In the attorney general's race, Republican Greg Abbott reported spending $916,005 and raising more than $1.5 million for the three-month period. Democrat Kirk Watson reported spending $1.7 million and raising $1.3 million in the span.
Republican Comptroller Carole Keeton Rylander reported raising $557,424 in the reporting period and spending $267,656. Her Democratic opponent, Marty Akins, reported raising about $289,000 for the period and spending about $186,000.
The Associated Press contributed to this story.
---
How can we manifest peace on earth if we do not include everyone (all races, all nations, all religions, both sexes) in our vision of Peace?
---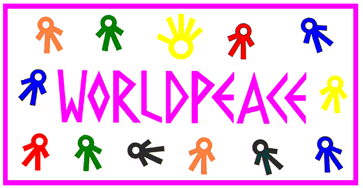 The WorldPeace Banner
To the John WorldPeace Galleries Page

To the WorldPeace Peace Page