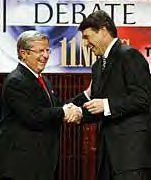 GOP Gov. Rick Perry and Democrat Tony Sanchez brought their cross-state shootout to close range Wednesday, assailing each other over the soaring cost of insurance and business ethics. The hour long debate presented a high-profile setting for each candidate to promote his agenda, analysts said.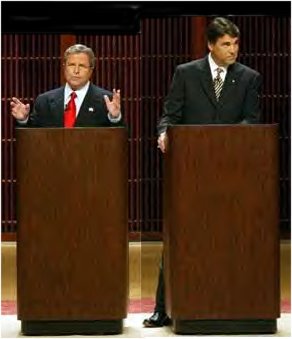 Perry stooping over and
Sanchez standing tall in his pumps
---
Perry, the down home country boy, zings little Tony Macaroni in the debates
Rick Perry the jaded ex-Democrat and veto king had the look of a Texas governor in the televised debates. Tony looked like the little greedy leprechaun that he is. The cameras caught Tony on more than one occasion with what Texans call a "shit eating grin" after Perry confronted him with his corruption and lies.
Tony refused to attend virtually every single Democratic Primary event which required him to speak to the people in a non-scripted setting. In a word, without a script, Tony comes across as incoherent and bumbling. Have no doubt that the questions were given to Sanchez and Perry before the debate and have no doubt that little Tony has been drilled and drilled by his handlers on not only the answers but also how to deliver them.
I have been critical of the fact that the media, due to the large amount of ad monies they are receiving from little Tony, have refused to discuss his height; among other things. In the debate, Tony was seen shaking hands with Rick at the end of the debate but the camera shot was from the back of the room. And the above handshake photo that was run in all the major Texas newspapers was shot from below with Tony closer to the camera to reduce the true difference in height.
The photos that were run of each of the candidates at their podiums were manipulated such that the photo of Tony was enlarged about 5% to against hide the reality. Tony will never be the man that John Tower was. Tony will never have that presence. John Tower was a little Big Texan. Tony is just a little man period.
Rick Perry should have been in the movies. He has the same presence that Ronald Reagan had.
And we have to hand it to old Rick, like he said in the debate, he has been in Texas politics for eighteen years and I think he may be around a lot longer unless he lets his greed get the best of him. There is no question that Rick is aligned with big business and big money and against the average Texan. There is no doubt that he is a true Republican like little George.
Tony will never measure up to Rick. Tony's slick ads were for the most part wiped out by the debate and the second debate will be even more devastating to little Tony. I feel sure in the second debate, Rick Perry is going to hammer little Tony into oblivion with a reference to Tony being a "Vietnam Era draft dodger".
Rick came off well in the debates. But what is more interesting is that there has not been a lot of media hype about the debates. The reason is that no one cares. Everyone knows that Rick is going to win.
Anyone who had to spend $20 million just to win the Democratic Primary against a guy named WorldPeace and another Hispanic with an ex-stripper wife is not going to be governor of Texas.
It is going to be a long long time before another Hispanic gets the Democratic nomination for governor; unless the Texas Democratic Party becomes the Party of the Blacks and the blue collar Hispanics. White collar Hispanics are for the most part Republicans.
John WorldPeace
October 9, 2002
---
Posted on Thu, Oct. 10, 2002

Perry, Sanchez exchange jabs
By Jay Root
Star-Telegram Austin Bureau

HOUSTON - During a blistering hour on live television Wednesday, Republican Gov. Rick Perry and Democrat Tony Sanchez accused each other of business and government corruption and were at odds on how to handle the homeowners insurance crisis.

Only once during their first televised debate did the two gubernatorial candidates say anything nice about each other, and that was when a reporter specifically asked them to do so. They both used up a few seconds to say they thought the other candidate had a nice, loving family.

Sanchez went on the attack first, using about half of his opening statement to attack Perry for the money he has taken from large contributors and doing little to solve the insurance crisis, a theme he would return to time and time again throughout the exchange, the first of two televised debates between the gubernatorial candidates.

Perry repeatedly cited his years of experience in state government, saying voters had already determined he's not influenced by campaign dollars.

"All of us are paying more and getting a lot less," Sanchez said. "My opponent has been spending too much time in my judgment working for his big contributors and not enough time working for Texas families."

The Democrat, a wealthy Laredo businessman, repeatedly cited what he portrayed as suspicious campaign contributions given to Perry -- including $25,000 from Enron the day after the governor appointed a former Enron executive, Max Yzaguirre, to the Public Utility Commission. Yzaguirre later resigned.

Sanchez also called for a "board of inquiry" to conduct a criminal investigation of "officeholders, former officeholders, lawyers, lobbyists and consultants" who he said have profited from the homeowners insurance crisis that has pushed up premiums and forced many Texans to scramble for coverage. Sanchez wouldn't tell reporters after the debate if he thought Perry had committed a crime.

Perry, who has served as lieutenant governor, agriculture commissioner and a member of the state House, said he makes decisions based on what's best for Texans, not his high-dollar contributors.

"I've been open and transparent with all my dealings," Perry said. "And I think the people of the state of Texas have shown by electing me three times that they trust me."

Mostly, the candidates stuck to their rehearsed campaign platforms on major policy issues.

Perhaps the harshest exchanges of the evening came during the discussion of a savings and loan that Sanchez once co-owned and help direct.

In the '80s, investigators determined that drug smugglers laundered $25 million through Tesoro Savings and Loan. Much of the money was later wired to accounts in Panama, but Sanchez said neither he nor anyone in the bank knew the money was tainted and noted that they took steps to correct the problem once they discovered it. The S&L later failed and required a $161 million federal bailout.

Sanchez was asked why voters should trust him to run a multibillion-dollar state budget if he was not aware of what was happening at this bank.

"I didn't run the bank, I was a member of the board of directors," Sanchez answered, saying an investigation by three federal agencies cleared him and never required him or his bank to pay fines or face any charges. "I feel very good. I feel that institution was managed well. We were caught in a bind," he added, noting that more than 2,000 S&L's failed at the same time.

Perry pounced in his rebuttal: "Mr. Sanchez, you shouldn't feel good. You shouldn't feel good when the federal authorities tell you that there is drug money that came into your bank in cash in suitcases and then you sent the money to Panama at the request of those drug dealers," the governor said. "You failed the test of leadership."

The two spent much of their time discussing the insurance mess in Texas. Sanchez said Perry should have called a special session to deal with the issue but alleged the insurance companies told the governor "not to solve the problem." Perry said he hasn't called a special session in part because the current group of lawmakers has been unwilling to draft laws curbing lawsuits. He said a new Legislature, with new faces, would get the job done.

Perry and Sanchez had different takes on a question that has not surfaced in the race yet: reparations for the descendants of slaves. Sanchez said reparations should be studied and he understood the "suffering and pain" of those affected; but he said he could not take an "absolute position" yet.

The governor voiced opposition to reparations, saying: "I think we need to look forward, not look back ... I'm for preparations for the future, not reparations for the past."

The governor's race has already consumed $75 million, making it the most expensive statewide race in Texas history. Sanchez, whose wealth has been estimated at $600 million, has spent $57 million, most of it his own, while Perry has spent about $17 million on his campaign. Sanchez said he's been "blessed" to have the money to compete with a much better-known incumbent.

"I have had to try to catch up in a few months" Sanchez said.

Again, Perry pounced: "If you really have been so blessed," he said, "maybe you should pay back that $161 million to the ... taxpayers of your failed savings and loan."

Sanchez got in a one-liner, too, when he questioned what Perry's experience has gotten Texas.

"If he has so much experience and has spent so much time in government," Sanchez wondered aloud, "how come we have so many problems in Texas?"

Despite all the hoopla surrounding this first televised debate, many voters were left out. For those without digital cable in San Antonio, the only option was to see it rebroadcast at midnight; it was a cable-only affair in El Paso as well, according to the debate sponsors.

In the Metroplex, only Belo-owned Texas Cable News ran the debate, according to a list of stations distributed by KHOU-TV, the Belo affiliate in Houston that sponsored the debate. KRLD/AM, the Dallas radio station, ran the audio live.

Carol Mitchell, a 62-year-old wallpaper hanger in Johnson County, was disappointed she couldn't see it live. She said her cable provider doesn't carry TXCN.

"I thought they ought to have this debate somehow so that the regular people can see it," said Mitchell, a Sanchez supporter. "It's supposed to be such a contested race that I'd like to see both of them together." Mitchell will have more luck on Oct. 24, when the second and final gubernatorial debate will be held in Dallas.

Opposing views on major issues

Insurance

Perry: "We have clearly said we will take strong steps in re-regulating that industry ... Clearly, I have taken strong action."

Sanchez: "He's taken over a million dollars from the insurance companies for his campaign. They've told him not to solve the problem ... He should have called a special session a long time ago."

The collapse of Sanchez's Tesoro Savings and Loan

Sanchez: "I didn't run the bank. I was on the board of directors ... I feel very good; I feel that the institution was managed well ... We were all caught in a bind."

Perry: "Mr. Sanchez, you shouldn't feel good ... when federal authorities tell you there is drug money that came into your bank, in cash in suitcases. And then you sent the money to Panama at the request of those drug dealers."

Experience

Perry: "Being the governor of the greatest state in the nation requires someone who is understanding of the process, has the experience, has the leadership, and has the vision ... I spent 18 years [in public office] preparing to be the greatest governor that I can be for this state."

Sanchez: "My question to him is this: If he has so much experience, and has spent so much time in government, and knows so much about it, how come we have so many problems in Texas?"

Balancing the state budget

Sanchez: "I think the budget we've got today has a lot of waste ... Without professional politicians looking over our shoulder, we're going to be able to find a lot more inefficiencies and a lot more waste."

Perry: "Obviously, he doesn't know my record of balancing five state budgets ... We're going to have a balanced budget with Rick Perry as the governor of the state of Texas."

---
Head to head
Candidates offer challenges on record, issues
AMERICAN-STATESMAN STAFF
Thursday, October 10, 2002
HOUSTON — Republican Gov. Rick Perry and Democratic challenger Tony Sanchez, in what looked like the live version of their dueling negative television ads, gave each a stern talking-to Wednesday night during their first debate.
Perry told Sanchez his performance at his failed savings and loan showed him as a failed leader.
Sanchez said as governor he would seek to convene a court of inquiry to see if anyone — possibly including Perry — committed any crimes in connection with the state's rising insurance rates.
All in all, Texans who tuned in to the hour-long debate at Rice University saw two men eager to ruin each other.
"If I'm lucky enough and fortunate enough to be governor, in January, when I take the oath of office, I'm going to call the attorney general and ask him to call for a court of inquiry" into the insurance situation, Sanchez said. "I want him to look into the criminal conduct of officeholders, former officeholders, lawyers, lobbyists and consultants. We've got to put a stop to this and the people of Texas have got to know why it occurred in the first place."
After the debate, Sanchez said it would be up to the attorney general to decide if Perry should be among those investigated. During the debate, Sanchez reiterated his charge that Perry was slow in reacting to rising insurance rates because of high-dollar contributions from the industry.
Perry spokesman Ray Sullivan, after the debate, dismissed the court of inquiry idea as the product of a "losing, desperate and negative candidate who has nothing to do but run down the other guy."
Perry and debate panelists put Sanchez on the defensive about Tesoro Savings & Loan, a Sanchez-controlled institution that failed in 1988 and required a $161-million federal bailout.
"I feel very good that that institution was managed well," said Sanchez. "It failed, just like 2,500 other financial institutions failed at the same time. We were all caught in a bind. I lost $3 million trying to keep it alive."
Perry came back with, "Mr. Sanchez, you shouldn't feel good. You shouldn't feel good when the federal authorities tell you that there is drug money that came into your bank in cash, in suitcases, and then you sent the money to Panama and at the request of those drug dealers."
Nobody connected with Tesoro was ever charged in connection with the $25 million in suspected drug money that flowed through Tesoro.
Perry, noting that Sanchez "may spend $100 million" on the campaign, told Sanchez "maybe you should pay back that $161 million to the people."
On the major issues, neither man offered specifics on how to balance the state budget in the face of a projected $5-billion shortfall that could grow by the time lawmakers convene in January.
Both talked about efficiency and each denied an opportunity to promise to resign if they sign a tax-hike bill.
"I think it is irresponsible to make that kind of judgment," said Sanchez.
"Hypotheticals are fun," said Perry, "but the bottom line is people of the state of Texas want to hear the governor talk about how he's going to make the budget work and that's what I've done over the course of this campaign."
Sanchez said his business experience would be invaluable in battling the budget crunch. Perry, a former lawmaker, agriculture commissioner and lieutenant governor, said his government experience is what's needed.
Sanchez was unimpressed, and told Perry as much.
"He's been bragging about all this experience and he's been in there 17 years, he's a professional politician," said Sanchez. "My question to him is this: If he has so much experience and has spent so much time in government, how come we have so many problems in Texas?"
The candidates had an opportunity to go directly head-to-head when they were allowed to ask two questions of each other. Perry's opening shot keyed on Sanchez's no-show record as a voter in recent years.
"What can you tell Texans about why you didn't bother to vote the last time we elected a governor?" Perry asked.
"I have said it many, many times, I made a mistake not voting as often as I should have," Sanchez said. "But I think what the people of Texas want to know from you, governor, is why you are taking so much money from the insurance companies and we're having to pay the Perry premiums."
Sanchez's opening question to Perry concerned the $25,000 contribution he took from former Enron CEO Kenneth Lay the day after Perry put a former Enron executive on the Public Utility Commission.
Perry said Lay had asked him to put several people on state boards, but they were not selected.
The first debate came several days after campaign finance reports showing that Sanchez, so far, has spent more than $55 million of his own money.
Overall, the candidates have spent $72 million, with much of it paying for ads attacking each other.
On the campaign trail, each candidate has largely stuck to the issues, with both spending a lot of time dealing with the spiraling homeowners insurance bills showing up in Texans' mail boxes. But both campaigns have also aggressively gone after the other guy, mostly through TV ads.
Perry and Sanchez will debate again in Dallas Oct. 24.
---
How can we manifest peace on earth if we do not include everyone (all races, all nations, all religions, both sexes) in our vision of Peace?
---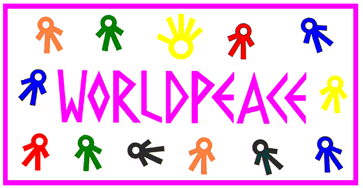 The WorldPeace Banner
To the John WorldPeace Galleries Page

To the WorldPeace Peace Page