Well so much for the Sanchez voter enthusiasm. Minority voter registration was a F.L.O.P.
Well the much touted "Dream Team" and the motivation that Sanchez would bring to the Hispanic voters of Texas turns out to be a sad joke. Just like I said it would be.
We have to consider that Victor Morales, a man of no means but a man of substance, did prove that he could motivate the Hispanic voters. I guess the lesson is that you have to run a Hispanic of substance and not a corrupt and greedy Hispanic who has a history of apathy in regards to other Hispanics.
Tony is a Republican. And Republicans have a history of little sympathy for non-White poor folks.
The Democratic Party has hit bottom. Now what? Will it wake up and get back into the politics of Texas. Or will it become an irrelevant party of running minority candidates that don't have a dog's chance in Hell of winning the big state wide races.
The only two Hispanics that had a chance for governor, Dan Morales and Vic Morales have left the party. Actually Dan Morales betrayed the party.
So who takes the responsibility for the insanity.
I wonder what would have happened if Sanchez had spent a couple million on voter registration in an effort to help the party as opposed to spending it all on himself.
John WorldPeace
October 20, 2002
---
Voter registrations in downward slide
By Peggy Fikac Chief, Express-News Austin Bureau
Web Posted : 10/19/2002 12:00 AM
AUSTIN — Despite history-making races at the top of the ballot, a smaller percentage of Texas' voting-age population is registered to cast ballots Nov. 5 than in either 2000 or 1998, according to the secretary of state's office.
Friday, the secretary of state released a certified total of the number of Texans registered to vote. At 12,569,738, it's lower than the 12.8 million unofficial figure released earlier.
While the total tops the number registered in the 2000 election by more than 200,000, it represents a smaller percentage of voting-age Texans, said Ann McGeehan, director of elections for Secretary of State Gwyn Shea.
This year, 81 percent of the voting-age population is registered, compared with 85 percent in 2000 and 81.9 percent in 1998.
"It may mean that we're approaching our saturation point," said McGeehan. "We may be starting to hit that wall where it's going to be harder to reach those few remaining voters who aren't registered."
The falloff comes despite hard-fought, nationally noticed top races.
Democrat Tony Sanchez of Laredo is challenging Republican Gov. Rick Perry in a race in which tough campaign ads started early and kept on coming. Former Dallas mayor Ron Kirk, a Democrat, is battling Republican Attorney General John Cornyn for U.S. Senate.
Both races are drawing national attention because they occur in the president's home state and because of their potential to put a couple of firsts in the history books.
If Kirk wins, he would be the third African American elected to the U.S. Senate in the country since Reconstruction and the first from Texas. If Sanchez wins, he would be the first Hispanic governor of Texas since it joined the United States.
Figures provided by the secretary of state for the 15 most populous counties show increases in a number of them, including Bexar and Hidalgo counties, compared with 2000. But Dallas County, where Kirk served as mayor, shows a decrease in registration from 2000, according to the secretary of state.
Not all South Texas counties show an increase, despite Sanchez's candidacy. The secretary of state shows Nueces County, for example, with fewer registered than two years ago.
Two groups — the Every Texan Foundation started by former San Antonio mayor Henry Cisneros, and the GOP's Victory 2002 effort — had set ambitious voter-registration goals. A spokesman for the foundation has said he's proud of his group's effort. A Republican spokesman who counted voters who re-registered said his group exceeded its goal.
Sanchez campaign manager Glenn Smith said the focus is on turnout, not registration.
"We put all our efforts into contacting registered voters who didn't have a voting history. There's a couple million registered voters who hadn't voted. It was my belief our resources were better used involving those who didn't have to go through the step of registering," he said.
"It's a great thing to do to get more people registered. As far as registering a lot of people and getting them to participate in that (same election) cycle, that is always a very risky assumption," Smith said.
The secretary of state's office is waiting to make a turnout projection, said spokeswoman Shannon Beeding.
"We're hearing such disparate projections, even from the various pollsters and pundits, we want to wait until the second or third day of early voting to get an idea of the momentum and the number of folks showing up," she said.
Democratic Rep. Pete Gallego of Alpine, head of the House Mexican American Legislative Caucus, earlier said negative campaigning may have dampened voter enthusiasm.
Political scientist Allan Saxe of the University of Texas at Arlington, said he doesn't see the campaign as negative. He said people may be preoccupied with national events.
"I think national issues have sort of taken over the game — terrorism, the economy," he said.
---
Oct. 19, 2002, 1:12AM

Democrats' battle plan wobbles
Strategy of gaining minority voters making few inroads with Hispanics
By R.G. RATCLIFFE
Copyright 2002 Houston Chronicle Austin Bureau

AUSTIN -- The Texas Democratic game plan to carry the ticket this year through a surge of minority voting appears to be working among blacks but is faltering among Hispanics as early voting begins today.

Some Democrats privately are saying black activists have put together a vibrant get-out-the-vote effort for former Dallas Mayor Ron Kirk in his campaign for U.S. Senate against Republican John Cornyn.

However, there are signs the high-dollar campaign of Democrat Tony Sanchez for governor against Republican Gov. Rick Perry has yet to coalesce into a well-oiled effort to energize Hispanic voters, the Democrats say.

Coordinated campaign officials dismiss the complaints as the "growing pains" of a party energized after losing in the three past elections.

"I don't think we've got a bunch of stumbling, bumbling campaigns out there. We've got a bunch of people who feverishly want to win," said Democratic coordinated campaign consultant Harold Cook.

But voter registration figures released Friday by the Texas secretary of state show Hispanic-surname registration is up just 170,127 over last year -- far from the goal of 500,000 new voters that was set by Henry Cisneros' nonpartisan Every Texan Foundation. There are 2.5 million Hispanic-surname registered voters this year.

Voter registration in the highly Republican counties of Denton and Collin outpaced the new registration in the heavily Hispanic counties of Bexar, Cameron, El Paso, Hidalgo and Webb by almost 16,000 new voters.

Harris County had 1.9 million registered voters, an increase of 15,980 over 2000. GOP Chairman Jared Woodfill said the largest increases in new voters was from Republican areas, but Democratic Chairwoman Sue Schechter said registration was equally high in Democratic neighborhoods.

The total number of registered Texas voters is 12.5 million, up from 12.3 million in 2000, said Secretary of State Elections Director Ann McGeehan.

There also is evidence of Democratic in-fighting that might be taking away from party unity.

The statewide Democratic campaigns in June fired the director of the statewide coordinated effort. Sanchez last month fired his El Paso campaign director, a woman who is the fund-raising director for U.S. Rep. Silvestre Reyes.

Sanchez replaced the woman with a political operative from the Lower Rio Grande Valley, creating some hard feelings among El Paso Democrats, according to the El Paso Times.

Industrial Areas Foundation groups such as the Metropolitan Organization in Houston and Valley Interfaith in the Lower Rio Grande Valley are dedicated this year to turning out "occasional" voters, those who just cast ballots in presidential years. But the Brownsville Herald reported Friday that negative television advertising is turning off some voters to the Valley Interfaith effort.

"We feel like a salmon swimming upstream when we knock on doors," a Valley Interfaith organizer told the newspaper.

In San Antonio, eight members of the Bexar County Democratic Executive Committee have sued the state party over who got hired to run the coordinated campaign effort in that core Hispanic Democratic vote community.

The bright spot in the state coordinated campaign organization, said some Democrats who did not want their name used, is that state Rep. Terri Hodge of Dallas has developed a strong get-out-the-vote effort for black voters.

In the Democratic primaries, Kirk pushed U.S. Rep. Ken Bentsen of Houston out of the runoffs with a surprisingly strong showing among Dallas black voters. Kirk won the runoff over schoolteacher Victor Morales.

Coordinated campaign consultant Cook said he does not think any of the Democrats' publicly aired fights are going to hurt their chances for victory.

"I don't consider any of these cases to be problems, as much as growing pains," Cook said.

Cook said that during the past two or three elections Democrats saw little chance of winning, so it was hard to get anyone excited. He said that this year activists see a chance at major statewide victories and want to be a part of it and take credit for a role in it.

"There is very, very fierce competition about who gets to be in charge, who gets to be the field captain, because the stakes are considered to be very high," Cook said.

Cook said there also is funding for campaign efforts this year "that everybody wants a piece of."

Sanchez pollster Paul Maslin said the key this year has not been to turn out newly registered voters but to turn out voters who only cast ballots in presidential races or some hot local elections.

Maslin said Sanchez can win if the normal Texas vote goes from a 75-25 percent split between Anglos and minorities to a 70-30 percent split. He said that would require an increased turnout of about 100,000 to 150,000 black voters over the 1998 elections and 300,000 to 350,000 Hispanic voters.

Maslin said Democratic complaints that there is more excitement among black voters is a result of the fact that almost all blacks vote Democratic while about a quarter of the Hispanic population does not.

"The mushiness that you hear about is less a product of this race than that Hispanic-Americans, Hispanic-Texans are not as monolithically Democratic as African-Americans," Maslin said.

"We're going to hit our target. You're going to see a pretty extraordinary Hispanic turnout given the historical record in this state," Maslin said.

But Mike Baselice, a pollster for Perry, said numbers like Maslin is talking about would require Hispanics to make up as much as 23 percent of the total state voter turnout. He said that would be a jump from an all-time high of 17 percent for Hispanics.

"To go from 17 percent to 23 percent in one election cycle is outside the bounds of reason," Baselice said. "You had Dan Morales on the ticket (in 1994), and it didn't happen for him."

The record for Hispanic turnout was 1996, when Hispanics made up 17.5 percent of the statewide vote.

Chronicle reporter John Williams contributed to this story.
---
It's official: Vote drives fall short

200,000 added to rolls instead of lofty promise of 1 million

10/19/2002 By COLLEEN McCAIN NELSON / The Dallas Morning News

Voter registration groups that kicked off the campaign season with public promises to sign up nearly 1 million new voters fell far short of those goals.

The number of registered Texans grew by about 200,000 over the last two years, bringing the total number of voters to about 12.6 million, the secretary of state's office said Friday.

The surge of new voters that campaigns predicted and registration groups promised never materialized, said Shannon Beeding, communications director for the secretary of state's office.

The modest jump could mean that the record turnout some candidates are counting on won't materialize, political experts said.

But the nonpartisan Every Texan Foundation and the GOP's Texas Victory 2002 deemed their efforts to add voters to the rolls a success.

Victory officials had vowed to sign up 400,000 new voters with an emphasis on identifying nontraditional Republicans.

Ted Royer, a spokesman for the Texas GOP, said Victory had registered more than 430,000 voters. But he declined to detail the group's methods for registering voters and for tracking the number of people they signed up.

"I don't want to give away too much strategic information," he said.

His number includes voters who were already registered in Texas but who needed to re-register because they had moved or married.

Victory claims victory

Mr. Royer said he doesn't know how many new voters the group registered. He acknowledged that some of the people who needed to re-register probably would have done so without Victory's assistance.

"But the fact is, we got them registered," he said.

Victory also did not track the demographics of the voters they signed up, Mr. Royer said.

Still, Victory officials were claiming victory.

"We not only met our goals, we exceeded them," Mr. Royer said.

Cal Jillson, political science professor at Southern Methodist University, said Victory's inclusion of voters who were already registered in Texas skews their results.

"Voter registration drives are about getting new voters registered for the first time," he said. "There are lots of people who move, and they need to register again, but that does not increase the total number of voters in Texas."

Victory previously had been criticized for spending much of its money on television ads supporting Republican Senate candidate John Cornyn. The group has aired two television ads statewide, and more TV spots probably will appear before Election Day, Mr. Royer said.

The voter registration drive depended largely on volunteer efforts, he said, allowing the group to use funds for TV.

"Obviously, we don't feel like our grass-roots goals were sacrificed at all," Mr. Royer said.

'Ditch digging'

Dr. Jillson said the ads appeared to be evidence that signing up voters was not Victory's priority.

"I took that to be sort of bailing out on the voter registration strategy," he said.

That Victory and the Every Texan Foundation didn't register 1 million voters is not a surprise, Dr. Jillson said.

"Voter registration is sort of the ditch digging of politics," he said. "It's hot, dirty work. People tend not to do as much as they claim they will do."

Ray Martinez, the executive director of the Every Texan Foundation, said that although his group did not meet its goal of signing up 500,000 new voters, the nonpartisan foundation laid the groundwork for future efforts.

"We plan to continue beyond this election cycle," he said. "The first year was a learning process."

Mr. Martinez said he does not know how many people his group, which was founded by former San Antonio mayor Henry Cisneros, registered. Adding even a modest number of voters to the rolls is an accomplishment, he said.

"We had an ambitious goal," he said. "We've always felt that we should aim as high as possible."

Andy Hernandez of San Antonio, a St. Mary's University political scientist and former president of the Southwest Voter Registration Education Project, said both groups faced a difficult task during an election year filled with attacks.

"So much of this year was about negative campaigning," he said. "I don't think there was a compelling reason to register."

E-mail cmccain@dallasnews.com
---
How can we manifest peace on earth if we do not include everyone (all races, all nations, all religions, both sexes) in our vision of Peace?
---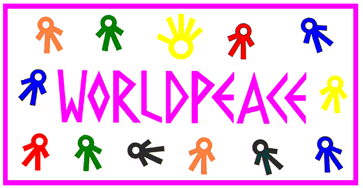 The WorldPeace Banner
To the John WorldPeace Galleries Page

To the WorldPeace Peace Page