WorldPeace commentary on Israel and Palestine

Return to The WorldPeace Peace Page

Do you think that I have come to bring peace to the earth; I have not come to bring peace, but a sword. For I have come to set a man against his father, and a daughter against her mother, and a daughter-in-law against her mother-in-law. Jesus - Matthew 10:34
The truth is often paradoxical. Lao Tzu - Tao te Ching
His comments underscored the Palestinians' sense of desperation in the face of Israeli Prime Minister Ariel Sharon's unilateral plan to impose a boundary stripping them of some of the land they want for a state if peacemaking remains frozen.

Israelis strongly oppose the scenario of a single state made up of Palestinians and Israelis, fearing that unless they separate from the Palestinians, Israel could end up ruling an area in which Jews would soon be a minority.

And that is the real motivator. Israelis a minority in their own God given country.
December 12, 2003 Less than two pages in length, the Ayalon-Nusseibeh plan calls for an Israeli withdrawal from essentially all of the West Bank and Gaza and for an "open city" of Jerusalem to be the capital of both states. Palestinian refugees would be compensated from an international fund, but have a right to return only to the new Palestinian state. Mr. Nusseibeh said the plan complements the "road map" and unlike the international peace effort prescribes solutions to the most-intractable "final status" issues of the Middle East conflict. He said while neither he nor Mr. Ayalon are major political figures, their grass-roots petition campaign has attracted 200,000 signatures, two-thirds of them from Israelis, and could grow to the point where it cannot be ignored by the Israeli and Palestinian leaderships.
December 12, 2003 But here's what's surprising: So far, the biggest political fallout from the Iraq war has not been in the Arab world. It has been in Israel. Say what? Yes, by destroying Saddam's regime and the real strategic threat posed to Israel by Iraq, the Bush team has taken away one of the strongest security arguments from Israeli hawks: that Israel needs to keep the West Bank, or at least troops on the Jordan River, as a buffer in case Iraq again tries to come through Jordan to strike Israel, as it has done before. As long as Iraq loomed as a major threat, one could hear three arguments in Israel. One said no withdrawal from the West Bank and Jordan River was possible because Israel needed a security buffer. Another said withdrawal was essential to maintain Israel as a Jewish democracy. Because if Israel kept control of the occupied territories, there would soon be more Arabs than Jews living in the West Bank, Gaza and Israel. A third said that no withdrawal was tolerable because the Jewish state needed to control all the Jewish land, including the Biblical West Bank. The Israeli right has tended to blend the security and the Jewish land arguments, while the Israeli left has focused on the need to maintain a Jewish majority so Israel doesn't become an apartheid state. But with the Iraq threat now gone, the argument is increasingly between those on the left and center who want to get rid of the territories to preserve Israel as a whole Jewish state and those on the Israeli right who want to preserve Israel on the whole Jewish land.
December 12, 2003 In the most detailed outline yet of a go-it-alone plan, Olmert said "it will be a lot different from the reality that exists today" and most Palestinians would no longer live under Israeli rule. Israel, he said, will "definitely" not withdraw to the 1967 lines, and will keep "the united city of Jerusalem." "A considerable amount of settlements and a considerable number of people will have to move into different areas," Olmert said.
November 14, 2003

Four former Israeli security chiefs sharply criticized prime minister Ariel Sharon?s policies toward the Palestinians yesterday, warning that Israel is headed for catastrophe if it does not reach a peace deal soon.

November 7, 2003 Ever since its foundation, Israel has been troubled by the thought that it might have as much to fear from supposed friends as from avowed enemies. That is one reason why Israelis are often anxious monitors of public opinion in North America and Europe. Their anxiety, and perhaps their anger, showed a peak last week when the European Union's polling organization released figures showing that Europeans reckoned Israel was a greater threat to world peace than any other country. The results reinforced the Israeli sense that the distance between them and the Europeans continues to grow and that the United States is their only reliable partner. It is interesting that people are now starting to say what they have been thinking for a very long time.
November 4, 2003 In an opinion poll conducted in October, when shown a list of countries and asked "if in your opinion it presents or not a threat to peace in the world," some 59 per cent of European Union citizens polled said that Israel was a danger. The other leading threats to the peace were (in descending order) Iran, North Korea, and Afghanistan. Yes, Ariel Sharon and the Palestinians and Adolph Hitler and the Jews.
Sad that the Jews cannot relate the hell that was forced on them by Adolph as a more violent hell than they are forcing on the Palestinians whose land they were given after WWII because the Europeans did not want them back.
November 1, 2003 A new survey reportedly shows that six out of 10 Europeans view Israel as a greater threat to world peace than North Korea, Iran or Afghanistan. A report published in the Paris-based International Herald Tribune says Europeans participating in the October poll were given a list of 15 countries and asked if any of them present a threat to world peace. Fifty nine percent said Israel was a threat.
Yes and if you listen to the Jews, you will hear how wrong everyone is about them. Hitler did not get rid of the Jews without a lot of support from the German people. He came to power by tapping in on the German's hatred for the Jews. I wonder what caused all that hatred?
October 18, 2003 Sen. Joseph Lieberman, D-Conn., was booed and heckled Friday by an audience of Arab-Americans as a parade of presidential hopefuls made their appeals to a constituency that is gaining recognition as an increasingly important swing vote in the 2004 campaign. Lieberman, an Orthodox Jew, drew shouts of disagreement from many of the 300 or so people attending the Arab-American Institute leadership conference in this Detroit suburb when
he attempted to defend the security fence under construction by the Israeli government in the West Bank as a temporary nuisance that would be removed once the Palestinian leadership makes "a 100 percent effort" to end terrorism.
Surely Joe Lieberman is not that oblivious to the fact that the fence represents nothing more than a land grab by the Israelis who who hate the Palestinians almost as much as Hitler hated the Jews.
March 8, 2003 Israeli forces have seized a band of territory in the northern Gaza Strip in what a senior officer says is an open-ended stay to thwart Palestinian rocket attacks on southern Israel. In the end not even occupying all of Palestine will stop the retaliation. But if George can take over Iraq, then Sharon can take over Palestine.
March 7, 2003 Israelis are starving the Palestinians to death. $2 million live below the poverty level of $2 per day.
January 19, 2003 Hitler's progeny Ariel Sharon says there will be no peace with the Palestinians unless they are a protectorate of Israel.
January 11, 2003 Ariel Sharon is in trouble with the Israelis not because he commits genocide against the Palestinians but because of his corrupt business dealings.
January 11, 2003 Ariel Sharon, the one man Palestinian holocaust has been caught in his own corruption.
January 7, 2003 Israel says it wants peace but then it bars the Palestinian leadership from attending a peace conference held by Tony Blair in Britain. I think when Sharon talks about peace and the Palestinians, he means "rest in peace".
January 6, 2003 A double suicide attack in Tel Aviv again reminds the Israelis that they are not bullet proof. You reap what you sow. And when you sow the wind, you eventually reap the whirlwind. When Israelis murder Palestinians, they kill their friends and neighbors in Israel.
January 2, 2003 God's chosen, the Jews, use Palestinians as human shields as they murder rock throwing Palestinian children. I guess their faith in the Palestinians ability to stop bullets is greater than their belief in God's desire to protect them.
December 31, 2002 Israel is an exclusive racist Jewish state with little interest in real democracy
December 3, 2002 Pro Israeli Jews in the Bush: ie, warmonger Paul Wolfowitz
Terrorism just raised the stakes and woke up an arrogant Sharon when it shot two missiles at an Israeli airliner. The skies are not friendly anymore. Texas Christians and Jews join forces at the first rally to rid the world of evil Muslims. United States Representative and Majority Whip Tom DeLay demonizes Muslims and along with Pastor John Hagge leads the first major Christian rally in Bush's coming Christian/Muslim war.
November 21, 2002 And the Palestinians continue to send suicide bombers to kill Israelis. If they kill enough Israelis before the January elections, maybe the Israelis will vote for peace. But I doubt it.
November 20, 2002 Israel is again being given a choice of peace or war in the coming January elections
November 16, 2002 And the insane killing in Palestine goes on, and on, and on. How much blood will be enough???
November 9, 2002 Netanyahu and Sharon; Hitler and me too Hitler
October 19, 2002 Palestinian children
October 7, 2002 Israelis just keep on murdering Palestinians
October 3, 2002 Jewish Peace Fellowship - The Sleep of Reason Produces Monsters
October 1, 2002 Israel and Palestine; Jews and Arabs continue to sacrifice their children
September 18, 2002 Israeli conscientious objectors; Vietnam revisited
September 3, 2002 Israel probes army killings
September 1, 2002 Ariel Sharon: "How many deaths will it take before he knows that too many people have died?"
August 30, 2002 Palestine, the new Warsaw
August 30, 2002 Ariel Sharon: "The Palestinian: the inciter of war, the prolonger of war"
August 4, 2002 In the end, the Palestinians win
March 13, 2002 Ariel Sharon: Hitler's Progeny
Return to The WorldPeace Peace Page

How can we manifest peace on earth if we do not include everyone (all races, all nations, all religions, both sexes) in our vision of Peace?
---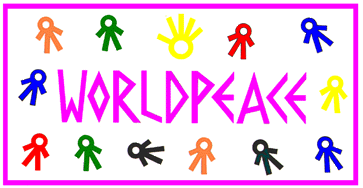 The WorldPeace Banner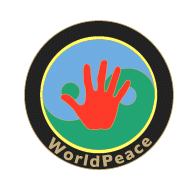 The WorldPeace Insignia : Explanation

To order a WorldPeace Insignia lapel pin, go to: Order
To the John WorldPeace Galleries Page

To the WorldPeace Peace Page