Welcome to
Presbyterians R US
---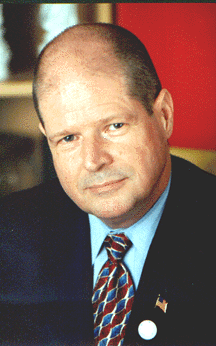 Webmaster:
John WorldPeace
Attorney at Law
2620 Fountainview, Suite 106
Houston, Texas 77057
Tel. 713-784-7618 Fax. 713-784-9063
email: JohnWorldPeace@aol.com
How can we manifest Peace on Earth if we do not include everyone (all races, all religions, all nations, both sexes) in our vision of Peace?
WorldPeace is one word !
Until we write WorldPeace as one word,
World and Peace will continue to be two things.
---
This site is dedicated to Esther MacPherson Ellis, my grandmother and member of Heights Presbyterian Church for 55 years prior to her death in 1997 when she was 91.
Her legacy to me was two Bible verses passed on to her by her mother.
Deuteronomy 33:27 "The eternal God is your resting place and underneath are the everlasting arms."
Phillipians 4:13 " I can do all things through Christ who strengthens me."
The audio file that you hear is the old hymn "Leaning on the Everlasting Arms".
---
If you cannot see the hand of God this matter,
then you are blind !!!
---
The greatest want of the world is the want of godly men who will not be bought or sold. Men who in their inmost souls are true and honest. Men who do not fear to call evil by its right name, men whose conscience is as true to duty as the compass to the North Pole. Men who will stand for truth no matter how difficult the road. Men who serve God and not the darkness of other men's souls.
---
Statement of Initial Purpose
This site has been set up for the purpose of publishing the truth about what is going on in the Presbyterian Church USA. It is an alternative to the controlled propaganda that is published all through the Presbyterian bureaucracy. I will publish the public information on lawsuits against the church. I will profile rogue and corrupt ministers and other bureaucrats who are a growing cancer within the body of the church. I will flush out the bad apples and hold accountable the entire bureaucracy per the Book of Order. No longer will the bad acts of corrupt men and women of the church be secreted in the inner sanctums of the Presbyteries, Synods and the General Assembly.
The reality is that the Presbyterian Church is dying due to the lack of Christian leadership. It is dying because the present leadership is as lost and confused as is the general population who are in desperate need of spiritual guidance in this day of materialism.
I invite communications from everyone. I will respect your confidences. I will be the sole determiner of what is published and what is not. As time goes on, I hope to have help in this area. The various Presbyteries, Synods as well as the General Assembly have their newspapers which they use to disseminate "their" version of the truth. This web site will be for the truth behind the controlled Presbyterian Press.
I believe in free speech but I do not believe in publishing gossip. If an accusation is made against a bureaucrat, I will ask the bureaucrat for a response. If no response is forth coming, then I will publish the communication as received.
The purpose of this web site is hold the Presbyterian leadership accountable. Its purpose is to shine the light on the darkness that pervades the church. Its purpose is to re-align the church with the teaching of Jesus. The purpose is to stop the corruption and to put into jail those who have been stealing from the church for decades. The purpose is to bring Christianity back into society where it is being eroded due to the low caliber of ministers and other leaders who have corrupted it.
I look forward to hearing from each of you.
In Jesus name,
WorldPeace
---
Contact email: JohnWorldPeace@aol.com Please put WorldPeace in the subject line of the email.
To the WorldPeace Peace Page: the home page of John WorldPeace: Click here
---
The conflict between the Presbyterian Church and the gospel of Jesus
This site was launched on June 7, 2003. It will take a while to find the best format. I welcome all input. I intend to make the site responsive the to entire Presbyterian community with information on happenings throughout the church, religious and spiritual articles, art works, acknowledgment of acts of true Christianity, and other matters. I ask your help in this project. The internet has gone a long way toward breaking the choke hold that religious bureaucracies have on the truth about what is really happening in the church. Only when there is a truly open forum will there be religious activity within the bureaucracy that reflects the spirit of Christ's teaching.
It is very important to understand that the primary objective of any bureaucracy is to protect the bureaucracy and only secondary to spread the message of the founder. This is the single most destructive reality of any religion. When there is a choice between following the teachings of Christ and an act that will weaken the bureaucracy, then the bureaucratic leaders almost always opt to put Christ in the back seat. If you think about this for a moment it will explain almost every corrupt and curious act of the church leadership and it applies to every religion and sect and to every single denomination within each religion.
Religion is a bureaucracy. Religion is not God. Religion is an organization that is allegedly dedicated to the spreading of the good news (gospel) of Jesus. It is supposed to the best method to connect people with God and the transcendent reality of God. It is often used to enhance the power and egos of particular bureaucrats who have forgotten that they have been selected to serve Christ and for no other purpose.
An example of what I am talking about is the fact that Mike Cole, General Presbyter of the Presbytery of New Covenant, Joe Delgatto minister of Heights Presbyterian Church in Houston, along with Doug Harper, Louise Rowe, Roy Keezel and others who are members of the illegal administrative commission presently running Heights church have denied myself membership in the church for the last year. I grew up at Heights and my mother has been an active member there for over sixty years. The Book of Order says that it is an abomination to Christ and a scandal on the gospel to deny membership to anyone who professes a belief in Christ regardless of there other beliefs. Yet Mike Cole and Joe Delgatto have determined that since I sued Delgatto for embezzling $600,000 from the church and because he ( per his testimony in open court in January 2003) stated that he secretly committed Heights to a $4.7 million corrupt HUD project without authority from the Presbytery, the session or the congregation, my membership is being blocked. Here is a prime example of corrupt church bureaucrats violating their mandate to spread the word of Jesus and to follow the Presbyterian Book of Order. Cole and Delgatto believe that the Presbyterian Church is their church as opposed to Christ's and therefore they and not Christ are the sole determiners of who will and will not become members. They have removed my mother as trustee along with many other corrupt acts in order to cover up the evil of Joe Delgatto.
In the end, all things will be made right and that which was hidden in darkness will be brought into the light. This web page is dedicated to keeping the light shining so that the corruption that is the inherent nature of human beings is kept to a minimum in Christ's church.
WorldPeace
June 8, 2003
---
THE CORRUPTION AT HEIGHTS PRESBYTERIAN CHURCH
AND
PRESBYTERY OF NEW COVENANT
---
email: JohnWorldPeace@aol.com

email: Mike Cole General Presbyter. Presbytery of New Covenant. Mike is blocking my email to him. His email address is mcole@pbyofnewcovenant.org but you can get to him at center@pbyofnewcovenant.org if he blocks you.

email: (Rev. Dr.) Barbara A. Renton Chair, General Assembly Council - Ms. Renton's response to this matter has been one of apathy and statements of lack of power to do anything and to let God take care of it. Funny, I thought God placed her in charge of the Presbyterian Church for something other than keeping the Chair warm.

* * * * * *

The minister of Heights Presbyterian Church, Joe Delgatto, testified in open court on February 10, 2003, that he and a few other rogue members of the church, without authority from the session, the Presbytery of New Covenant or the congregation, obligated (or attempted to obligate) Heights Presbyterian Church to a $ 4.7 million HUD retirement home project in the Independence Heights neighborhood, a high crime and prostitution Houston subdivision. This was done mostly in secret over a two year period. Who wants their parents living in this area when there are other choices available. How did HUD approve this project when there is no access to grocery stores or other amenities for normal living much less such a high crime area?

To support the minister in this and other bad acts, the Presbytery of New Covenant, specifically Lynn Johnson, the stated clerk, Art Greer and Belinda Windham have illegally, by church law, appointed an administrative commission headed by Rev. M. Douglas Harper to take over the session of Heights Presbyterian Church and to try to retroactively and illegally justify the project to the congregation by fiat as well as to endorse other bad acts by Delgatto (By the way there is $600,000 unaccounted for church funds since Delgatto became minister five years ago and the Presbytery is resisting a CPA audit. There has been no audit of any kind in five years. Hello!).

WorldPeace

_____________________________________

Houston neighborhood (Independence Heights) gets unwanted reputation
This is where Joe Delgatto, the minister of Heights Presbyterian Church conspired with Tom Lord and others to illegally commit the church to a corrupt HUD retirement project for their own personal gain.

ABC13 TV Eyewitness News Houston, Texas
(2/21/03) —

People in one northwest Houston neighborhood are getting some unwanted exposure.

The neighborhood is Independence Heights, one of the oldest black neighborhoods in Texas. But now it's getting a reputation for something far different. It's been posted on the Internet as being the place to find a prostitute.

Residents of that area are fed up and say the current laws go too easy on the streetwalkers.

"They've told our officers they can be arrested and within hours be back on the streets," said HPD Captain J.A. Lampignano.

"It doesn't take nothing but a pen and paper to change the law, and we want them to change the law," said Neighborhood Leader John Branch. "This is our River Oaks. This is our Sugar Land and we don't want it."

Over the last year, Houston police officers have made more than 230 arrests in the neighborhood, but officers say those arrests just don't stick.
---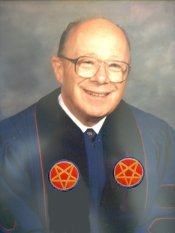 Joe Delgatto, Minister?
Heights Presbyterian Church
The most important thing in my life is myself. I have been the minister of Heights Presbyterian Church, in the heart of Houston, Texas for over five years and I have watched the active congregation dwindle to sixty people. And I have split that congregation in two distinct factions. I have turned over my ministry to a red headed witch named Patty Ellis and I make no decisions without her approval. I have watched as a one million dollar bequest to the church from John Fakes, the founder's son, has been reduced to $200 thousand in five years. But it does not matter because I have enjoyed an annual salary greater than the annual pledges for each of my five years at Heights Presbyterian Church. I will never allow John WorldPeace to become a member of Heights Presbyterian Church because he continues to tell the truth to the congregation that I am a corrupt, devious and lying little man whose fire for Jesus went out long ago.


When the pentagram was painted on the side of my church, I refused to remove it. There was also a refusal by Walter Ellis to remove it. Several congregational members took it upon themselves to remove it. (For a understanding of the implications of this symbol of the Church of Satan go to Church of Satan .)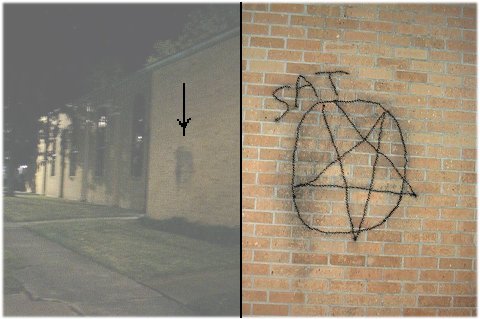 ---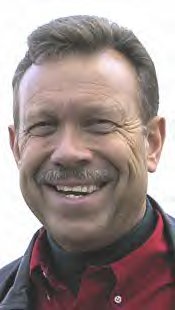 Mike Cole, General Presbyter

Presbytery of New Covenant

I am a career church bureaucrat who believes that the church members must serve the bureaucratic hierarchy of the church. I believe that the Presbyterian Church is an exclusive club and that only those individuals who I approve to become members of my Presbytery will become members. I am in complete agreement with Joe Delgatto that under no circumstances can John WorldPeace ever reactivate his membership at Heights Presbyterian Church or become a member of any other church in my Presbytery. I believe that the dictates of the Book of Order where someone like John WorldPeace who was baptized in Heights Presbyterian Church and who was an active member for over twenty years and whose family contributed to the building of the present sanctuary and whose mother has been an active member for over sixty years cannot by simple reaffirmation of faith be allowed to rejoin the church membership. I reject the Book of Order's pronouncement that to reject a person like John WorldPeace is a rejection of Christ and a scandal on the gospel. I agree with Joe Delgatto that it is better to close the church membership to all persons as has been done than to allow John WorldPeace to become a member of Heights Presbyterian Church. The gospel of Jesus must take a secondary priority to preserving the preacher's union which is officially known as the Presbyterian Church, USA.


Further and most importantly, it is my intention to run off every Mason and Shriner in my Presbytery. The work the Shriners do for cripple children means nothing to me. See the December 28, 2003 link below.
---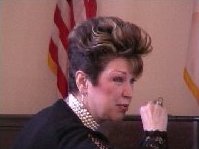 Patty Ellis
High Priestess of local witches coven
If this woman comes to your church, you had better watch out. In this picture she is putting the evil eye on someone; everyone.
---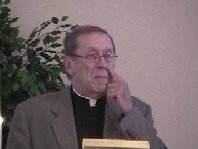 Lynn Johnson
Stated Clerk of the Presbytery of New Covenant
This is a picture of the corrupt Mr. Johnson in the pulpit of Heights PC doing some of his evil. The sooner he leaves Presbytery the better.
---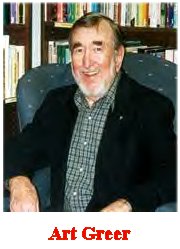 Psalm 37 Do not fret because of evildoers. Be not envious toward wrongdoers. For they will wither quickly like the grass and fade like the green herb. Trust in the Lord and do good. Do not fret because of him who prospers in his way, because of the man who carries out wicked schemes. For evildoers will be cut off. Yet a little while and the wicked man will be no more; and you will look carefully for his place and he will not be there. The wicked plots against the righteous and gnashes at him with his teeth. The Lord "laughs at him", for He sees his day is coming. The wicked have drawn the sword and bent their bow to slay those who are upright in conduct. Their sword will enter their own heart. And their bows will be broken. Depart from evil and do good, so you will abide forever. For the Lord loves justice. The mouth of the righteous utters wisdom, and his tongue speaks justice. The law of his God is in his heart. His steps do not slip. Mark the blameless man, and behold the upright; for the man of peace will have a posterity, but transgressors will be altogether destroyed.
---
Evidence of Satanism at Heights Presbyterian Church
1) The up-side down pentagram was painted on the outside of the church and Joe Delgatto refused to remove it.
2) The membership has been closed. No one is asked to join the church. There is no outreach program. No one has joined in over a year. According to the Book of Order it is a rejection of Christ and a scandal on the gospel to close the membership of the church and on this I allege the following.
3) Patty Ellis, the priestess of Heights Church and mentor of Joe Delgatto, has destroyed virtually every memorial in the 100 year old church in the last twelve months.
4) $600,000 of church funds are missing since Delgatto became minister in 1997.
5) Per Delgatto's testimony in court he, Walter Ellis, James McClain and Charlie Windham committed Heights Presbyterian Church to a corrupt and fraudulent HUD low income retirement project without authority from the congregation, the session or the Presbytery of New Covenant. All this was done in secrecy over a period of two years.

6) As of July 16, 2003, the church members have been locked out of the church except on Sunday.
The following people are a part of this Satanic conspiracy at Heights Presbyterian Church.
Members of Heights Presbyterian Church
Joe and Madeline Delgatto, minister and wife
Walter and Patty Ellis
Bennie and Alice Grabel
Anita and Amy Grabel
John and Chris Blanco (another Grabel daughter)
Charlie Windham
Barbara Puckett
James McClain
Members of Presbytery of New Covenant
Mike Cole, General Presbyter
Lynn Johnson, Stated Clerk
Art Greer, gopher
Administrative Commission appointed by Presbytery
Rev. Doug Harper, Chairman
Rev. Jerry Hurst - South Minster Presbyterian
Rev. Louise Row
Rev. John Hirling - Oaks Presbyterian
Roy Keezel, attorney at law - Grace Presbyterian
Leona Nickerson - University Presbyterian
Jeanie Flowers - St. Phillip Presbyterian
Jodie Harrington - South Minster Presbyterian
Investigatory Commission Members investigating Delgatto for 37 complaints and accusations from members of the church.
Rev. Lynn Hargrove - moderator
Rev. Lacy Sellars
Bob Scott
Eugene McKelvey
Commission to investigate Request for Vindication of Joyce Wolter for acts of Madleine Delgatto.
Rev. Chamberlain
Sarah James - St Phillip Presbyterian
Committee to investigate the accusation of Roy Keezel, member of the Administrative Commission against Joyce Wolter, a sixty two year member of HPC, session member, trustee and contributor to the building of the present sanctuary.
Rev. Debbie Cenko
Elder Mary Ruth Chelton
Elder Jane Larkin
Rev. Tim Phillips
Since a member of St. Phillip Presbyterian Church is on every committee and Patty and Walter Ellis along with Diane Fieler McGehee, the short term attorney for Delgatto and Ellis, there can be little doubt but that St. Phillip is the flagship of the Presbytery of New Covenant's 101 churches and the source of much darkness and resident evil.

---
John and Kay
WorldPeace
---
TABLE OF CONTENTS
Jesus hated the Jewish religious bureaucrats of his day. In the end, they killed him. There is no difference between those religious bureaucrats and Joe Delgatto and Mike Cole. These are evil intentioned men whose goal is enslavement of those who are taken in by their corruption. Nothing has changed. If Jesus appears, Mike Cole will be first to advocate his execution for challenging the evil that is the Presbytery of New Covenant and all its lackeys who do its dirty work.
Mark 11:17 And Jesus began to teach and to say to them "Is it not written, 'My house shall be called a house of prayer for all the nations?' But you have made it a robber's den. The chief priests and the scribes heard this, and began seeking how to destroy him, for they were afraid of him.
Matt 3:7 But when he (John) saw many of the Pharisees and Sadducees coming for baptism, he said to them, "You brood of vipers, who warned you to flee from the wrath to come."
Acts 5:17 But the high priest rose up, along with all his associates (that is the sect of the Sadducees) and they were filled with jealously.
Matt 23: 15 Woe to you, scribes and Pharisees hypocrites, because you travel around on sea and land to make one proselyte; and when be becomes one, you make him twice as much a son of hell as yourselves.
Luke 11: 42 But woe to you Pharisees! For you pay the tithe of mint and rue and every kind of garden herb, and yet disregard justice and the love of God: but these are the things you should have done without neglecting the others. Woe to you Pharisees! For you love the chief seats in the synagogues and the respectful greetings in the market places. Woe to you! For you are like conceal tombs, and the people who walk over them are unaware of it.
Luke 16: 14 Now, the Pharisees, who were lovers of money, were listening to all these things and were scoffing at Him. And He said to them, "You are those who justify yourselves in the sight of men, but God knows your hearts; for that which is highly esteemed among men is detestable in the sight of God.
---
Coming very soon: The lawsuit reignites.

---
Still no response from the ghosts to WorldPeace's questions of August 25, 2003. This is typical of what has been happening for the last eighteen months at Heights; the corruptors and disruptors have refused to communicate. This is the primary reason why the lawsuit continues. The ghosts are the reason there is no peace at Heights. If I am a minority of one, the truth is still the truth. September 10, 2003.
---
This page was opened on February 15, 2003. I am posting the history of this matter as fast as I can.
In Jesus' name,
WorldPeace
---
How can we manifest peace on earth if we do not include everyone
(all races, all nations, all religions, both sexes)
in our vision of Peace?
---
The WorldPeace Banner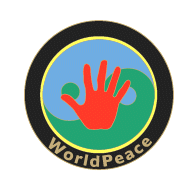 The WorldPeace Insignia : Explanation
To order a WorldPeace Insignia lapel pin, go to: Order
To the John WorldPeace Galleries Page

To the WorldPeace Peace Page